Navigating the World of Industrial Ethernet Switches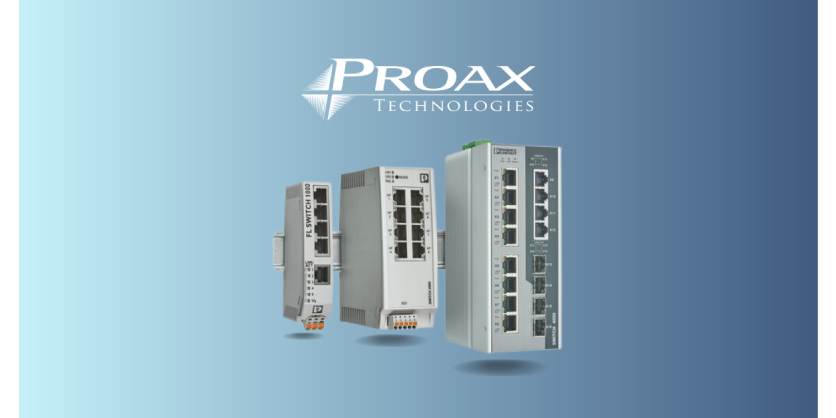 October 31, 2023
In the ever-evolving industrial landscape, robust communication infrastructure is crucial. Industrial Ethernet switches are at the core of this, bridging modern communication systems effortlessly. They go beyond merely connecting devices; they ensure seamless, real-time interactions in challenging environments, upholding operational continuity and security.
Key Takeaways
Industrial Ethernet Switches are central to modern, reliable, and efficient industrial communication systems.
Features like Gigabit Ethernet, Power over Ethernet (PoE/PoE+), and advanced security protocols are commonplace in these switches.
Brands like Phoenix Contact, distributed by Proax, are at the forefront of providing cutting-edge industrial Ethernet switches.
The integration of emerging technologies like 5G and Wi-Fi 6 in these switches is paving the way for future-ready industrial networks.
Key Features of Industrial Ethernet Switches
Gigabit Ethernet Capabilities
In an era where data is king, the speed of data transmission is paramount. Industrial Ethernet switches, particularly those from Phoenix Contact, offer Gigabit Ethernet capabilities ensuring that high-speed data transmission is a given, not a luxury. This feature is crucial for real-time applications where a delay of even a millisecond can have significant ramifications​.
Gigabit Ethernet Switches Guide
Power over Ethernet (PoE/PoE+) Ports
The essence of an efficient industrial setup lies in its simplicity. Power over Ethernet (PoE/PoE+) technology in industrial Ethernet switches, like those from Phoenix Contact, epitomizes this simplicity by eliminating the need for separate power sources for connected devices. This not only simplifies the network setup but also significantly reduces the associated cabling costs and the operational complexities​.
Applications of Industrial Ethernet Switches
Building Robust Networks in Harsh Environments
Industrial environments are often harsh with extreme temperatures, vibrations, and electromagnetic interference. Industrial Ethernet switches from Phoenix Contact are designed to thrive in such challenging conditions, enabling the creation of powerful and secure networks that ensure uninterrupted communication between devices and systems.
Real-Time Monitoring and Control
Data Acquisition and Analysis
Automation Networking
Remote Access and Diagnostics
Video Surveillance
Process Visualization
Integrated Safety Systems
Industrial Internet of Things (IIoT) Connectivity
Mission-Critical Communications
Phoenix Contact: A Vanguard in Industrial Networking Solutions
Phoenix Contact stands at the forefront of providing cutting-edge industrial Ethernet switches. For a detailed exploration of Phoenix's Gigabit Ethernet switch series, check out this insightful gigabit switches post.
Here's a brief glimpse into their offerings:
1000 and 1100 Series Unmanaged Switches: Latest entrants tailored for varied automation applications, featuring different transmission speeds and installation options.
2000 Series Managed Switches: Designed for elevated network performance with effortless configuration, automatic error detection, and the 2200 and 2300 versions offer communication via fiberglass for maritime and process industries.
FL MGUARD 1100, 2100, and 4300 Security Routers: Backed by over two decades of cybersecurity expertise, offering robust security functions to protect your production network from potential threats.
Conclusion
Discover the range of tailored offerings, be it unmanaged switches, managed switches, or security routers at Proax, your Phoenix Contact authorized distributor. They are here to steer you towards a robust and secure industrial communication infrastructure. Reach out, and together, they can elevate your network's efficiency.
Related Story
Proax Technologies is proud to announce that they are celebrating 60 years of serving the automation market! Industrial Automation has become an essential part of all manufacturing and Proax is well positioned to enable all industries to drive sustainable business growth through automation.