Discussing Automation and IIoT with Harting Canada's Carl Maalouf and Peter Hannah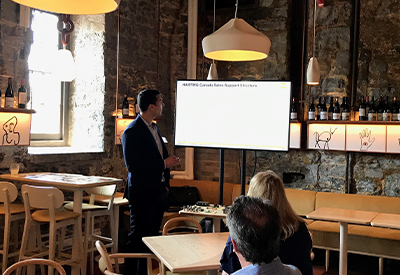 Aug 6, 2019
By Blake Marchand
Harting Canada held their annual trade media luncheon in Toronto this past month to provide insight into the company's direction moving into the next fiscal year. The event provided Panel Builder & Systems Integrator a fantastic opportunity to sit down with Carl Maalouf, the Canadian Director of Sales for Harting Canada, as well as Territory Sales Manager, Peter Hanna.
Is there anything affecting the Canadian Market that is unique to Canada?
"It's tough to say, is there something specific uniquely affecting Canada?" Carl said, directing his questions to his colleague, Peter.
"I would say our customers are facing the same challenges that the US markets are facing. When they are designing products and manufacturing products, they don't all have similar challenges but the same profile of challenges. So, I wouldn't say nothing is uniquely Canadian, but unique to that industry."
What are some of the industry trends that are influencing Harting Canada's direction?
"Definitely automation is the big trend," said Maalouf, "and Harting is set up to answer that demand. We're seeing some re-shoring of manufacturing in North America in general, and Canada as well. The way they can be competitive in doing that is by making their manufacturing more automated – taking the labour component out, that way you are more competitive."
The initial offshoring trend of manufacturers relocating their factories to countries where labour is considerably less expensive is making its way back to North America as automation has advanced considerably. Manufacturers are seeing the benefits of automation from a data and operations standpoint. Automated processes, with communications components becoming more adept and compact, and the considerable improvement to optical technology, along with robotics, has become and is becoming increasingly more effective. From an ROI perspective, as well as with respect to quality.
With the shift toward highly technical systems, manufacturers are finding it beneficial to operate in regions where the required high skilled workers are coming out of.
"That's definitely something we are seeing," Maalouf added to his point, "with the introduction of more robots in factories, the introduction of more communications, cyberphysical systems (I'm not a big fan of that word), but mainly what that means is joining the physical aspect with the digital aspect of machinery and having them communicate with one another and be self sufficient, produce on their own without the input from a human."
Ultimately, making the process more efficient while reducing costs and labour.
Maalouf noted that as 5G networks become more prevalent, Harting will be well positioned to increase their market share as the automation market will grow considerably.
"The 5G internet infrastructure is going to increase bandwidth for the transmission of data, it's also going to reduce latency. Those are some key aspects that will make automation a much bigger part of our business in Canada."
"The products that we're developing for the industry are suited to meet that demand."
How far down the road will smart factories start becoming more of the norm?
"That's a very good question, I would say Canada is probably not going to be the leader when it comes to smart factories. I think it will be, probably, Germany or the US that are going to lead the way in terms of developing and having true smart factories in place, where you have very little human input in the overall operation of the factory."
"The first critical thing will be to have a 5G network infrastructure in place. With 5G you have a much more robust network, a much faster network, and you have much lower latency. And latency is the key thing here, because it directs how quickly data is transferred from point A to point B in the factory," he explained, "5G gives you one millisecond of latency."
"It also allows you to connect many more devices in the same radius, in one square kilometer you can now connect one million devices."
Are there any technologies, or applications for some of Harting's products, that you are seeing more of?
We're seeing a lot more applications of IIoT," said Hanna, "We have a transportation customer that is looking at the digitization of old locomotives and they're looking at using one of our products, which is the Mica. We're also seeing people requiring a lot more analytics, when it comes to certain machinery. Some of my customers are getting into more predictive maintenance, there is a lot of data collection, a lot of information that is required to determine where machines are and what their status is prior to having to do any sort of maintenece."
Predictive maintenance is a major asset for manufacturers because of the obvious benifit it poses with respect to downtime mitigation. It can allow maintenance departments to address an issue with a machine before it causes a major shutdown. Reducing uncertainly, allowing manufacturers to plan their maintenance schedules so they aren't interupting crucial productions periods. Ultimately, maximizing the amount of time a machine can be in production, and therefore making it more profitible.
When it comes to Harting Canada moving forward, it's about growth and expansion, Maalouf noted. Which was the general them of Harting's presentation given by Maalouf and Ashley Smith-Heine (Vice President of Sales Harting Americas) at the media luncheon. Harting is increasing its sales staff in Canada from two to four, "because the demand is really high," Maalouf said, and as he mentioned above, they are well positioned to take advantage of the growing automation market facilitated by the introduction of 5G networks. "Manufacturing is going well in Canada, in the spaces we deal with, so we're just trying to meet the demand."