All About Outdoor Fiber Optic Cable with Guillevin
October 31, 2023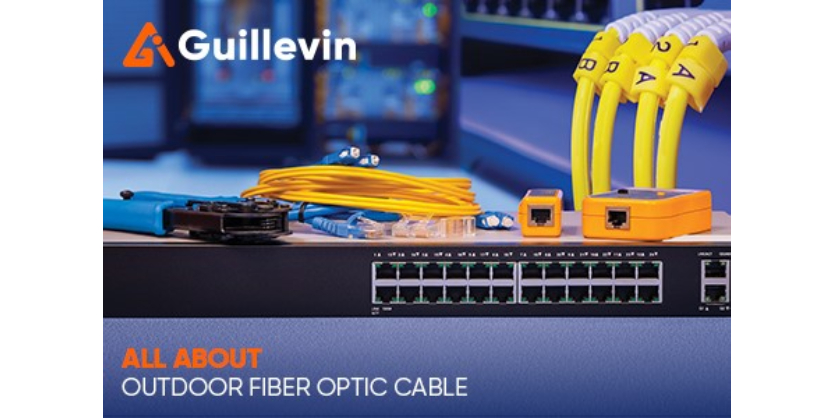 Outdoor fiber optic cables meet many needs, and are suitable for all types of installations, whether residential, commercial or industrial. What type of outdoor cable should you choose from among the different types of size and use according to your needs? Guillevin's experts can help.
All about Outdoor Fiber Optic Cable (outside plant cable)
Looking to install outdoor fiber optic cable for a residential, commercial, or industrial project? Wondering what type of fiber optic cable to use, and how it gets installed? Also known as outside plant cable, outdoor fiber optic cable comes in a variety of types and sizes for a wide range of uses. Read on to find out more about choosing and installing outdoor fiber optic cable.
What Are the Main Types of Outdoor Fiber Optic Cable?
Let's back up for a second. Before we look at outdoor fiber optic cable specifically, it may be useful to go over the main types of fiber optic cable for both interior and exterior use.
Interior Fiber Optic Cable
As you can imagine, interior fiber optic cable is used indoors. It can be used in a residential, commercial, or industrial setting (but see our discussion of uses in specific industries further along in the article!). Interior fiber optic cable is not water resistant. It is also subject to stringent fire safety standards, especially when used in large buildings, as opposed to for residential use.
To ensure fiber optic cable meets fire safety standards, it is subjected to FT4 vertical flame or FT6 vertical and horizontal flame & smoke tests. Cables that are FT4- and FT6-approved are more fragile than cable used outdoors.
Outdoor Fiber Optic Cable
Outdoor fiber optic cable includes different parameters to protect the cables from UV rays, moisture, and temperature changes. This cable is black so it is not burned by the sun. Specific outdoor fiber optic cable is also needed when cable is to be buried or run underground, namely that it must be waterproof. A third consideration for outdoor fiber optic cable is temperature: as we all know, weather in Canada varies widely, so outdoor fiber optic cable must be able to withstand both heat and cold. For example, gel filled fiber optic cable is resistant up to minus 40 degrees Celsius.
Here's a tip: If you're looking for a more affordable option for running fiber optic cable outdoors, consider using fiber optic cable that is encased in a shell.
Interior/Exterior Fiber Optic Cable
Last but not least, you can opt for fiber optic cable that is appropriate for both interior and outdoor use. This cable combines the features of both: it is water resistant, able to withstand high and low temperatures, and meets fire safety standards needed for indoor use.
Can Fiber Optic Cable Be Run Outside?
As we've seen here, fiber optic cable can be run outside – in fact, it often must be run outside! fiber optic cable that is run outside is commonly referred to as outside plant cable. Outside plant cable is used by telecommunications giants such as Bell Canada, Telus, and so on.
What Size (fiber count) of Fiber Optic Cable Do I Need?
Fiber optic cable comes in a wide range of sizes. Several factors will help you determine what size of outdoor fiber optic cable you need, including the following:
Amount of information needed – in other words, the amount of connections needed
Your budget
The location it will be used.
There is no specific or standard size for outdoor fiber optic cable; rather, fiber optic cable can be chosen according to the specific parameters of the building's needs, the length required, and so on.
How Do You Run Outdoor Fiber Optic Cable?
Outside plant cable is installed with the help of specialized equipment. Technicians use boom trucks to install the cable. If cable will be buried, trenchers are used to dig trenches for the fiber optic cable to be installed.
How Deep are Fiber Optic Cables Buried?
There are no specific recommendations about how deep outdoor fiber optic cable should be buried, but it is generally buried around two to three feet deep. Don't forget to take temperature into consideration when installing gel cable – the climate in the area or region that you install the cable may also affect how deep it should be buried.
Can I Run Fiber optic and Electrical Cable in the Same Trench?
Fiber optic cable and electrical cable can be run in the same trench, but there's a caveat: the fiber optic cable cannot contain metal, which it often does when the cable is protected. Fiber optic cables containing metal are considered to be conductive. If conductive fiber optic cable and electrical cable are run together, it can cause electrical interference.
What about Considerations for Specific Industries?
In general, outdoor fiber optic cable is the same across most industries, but there are some notable exceptions.
In Hospitals
In hospitals, armoured fiber optic cable is often used. Although this may seem unnecessary, it is frequently requested because it creates more protection from human error or from contractors who may not be aware of the cable's location.
In the Mining Industry
In the mining industry, special fiber optic cable has been created for vertical installation. It can be several kilometres long, and a special technique is required for its installation.
What about the Connectivity of the Outside Plant Cable?
Outdoor fiber optic cables include both pre-terminated and field-terminated options.
Pre-Terminated Outdoor Fiber Optic Cable
With pre-terminated cables, connections are already installed. This type of cable is common in residential installation. Or where not too many customized connections are needed.
Field-Terminated Outdoor Fiber Optic Cable
Unlike pre-terminated cable, bulk cable does not include connections. Connections are added during the installation process based on the location's needs.
What's the Difference between Multimode and Single-Mode fiber Optic Cable?
Multimode versus single mode: What's the difference? And why should I choose one over the other?
Multimode Cable
Multimode cables cores are larger than single-mode cables. It uses a different light source, which travels a shorter distance than the laser light source used in single-mode cable, so it is not an appropriate choice for fiber optic installations that use a longer distance. Multimode fiber optic cable also uses electronic equipment that is less costly than single-mode cable.
Single-Mode Cable
Single-mode fiber optic cable uses a laser light source, which makes it ideal for long distance. Although its electronic equipment can cost more, it can also be used over a longer distance. Aerial outside plant fiber cable construction allows installations spanning for over 400 meters.
Note that when single-mode cable is used, it should be used both indoors and outdoors so that the same electrical equipment can be used.
Conclusion: the Best Outdoor Fiber Optic Cable for Your Project Is… It Depends!
Now that we've discussed the types, installation steps, and other considerations of outdoor fiber optic cable, where do we go from here? Your location, type of installation or specific industry's needs, budget and more will help you to determine what type of outdoor fiber optic cable is best for your project. If you'd like a recommendation, speak to an expert with Guillevin!
More Information
Learn more about Guillevin's fiber optic cable options
Related Story
An essential part of any installation, Guillevin carries a large selection of wire and cable options. As a trusted distributor, Guillevin operates with a decentralized business model structure that allows them to be agile and align their products and solutions to meet the demands of the wire and cable market in Canada.