2023 Innovations from Festo at CMTS: CMMT-MP and CPX-AP-A
September 22, 2023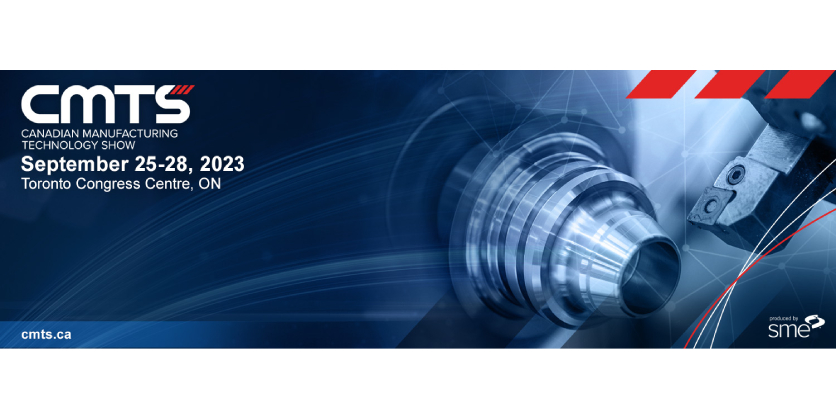 By Krystie Johnston
Festo is a leading supplier of pneumatic and electrical automation technology. The company tirelessly innovates products and solutions to improve operations for factories and process automation. Festo's 2023 innovations include their CPX-AP-A remote I/O, CMMT MP servo drive, and their portfolio of productivity tools.
Festo's New CPX-AP-A: One Integration Point, One IP Address
Festo's latest innovations in technology leverage its decades of experience with pneumatic components as well as controls and remote I/O. From this unique position in the market, Festo has recognized opportunities to improve the way that field devices connect with PLCs, saving customers time and money with one integration point and one fieldbus interface. Festo's new Automation Platform, or AP for short, provides one connection for all the I/O and valve terminals in a machine system, either on an entire machine or a section of a machine. And AP's single integration point makes it easy and less expensive for customers to take advantage of seamless connectivity.
Another way that Festo provides seamless connectivity to its customers is by supporting 3rd party devices, so that original equipment manufacturers (OEMs) can build machines with components from Festo and other vendors.
Eric Rice, Product Market Manager, Festo North America, says, "The way that we support 3rd party devices is through IO-Link, which is a very well-adopted protocol and growing in popularity amongst machine builders and automation solution providers." He adds, "We also support all the major Ethernet networks commonly seen in North America, such as EtherCAT, EtherNET/IP, PROFINET, and Modbus TCP." Moreover, the customer can easily switch between Ethernet networks.

Eric Rice, Product Market Manager, Festo North America
This seamless connectivity of the CPX-AP-A remote I/O modules and the CPX-AP-I decentralized I/O offer incomparable flexibility for OEMs in North America who need to serve different end users. When asked how many devices can be integrated with Festo's AP, Rice answers 80 modules with each module connecting multiple I/O. He says, "When we talk about individual I/O modules and valve terminals, we have a maximum number of 80 – we have yet to run into a customer that has a need for more."
Rice has over two decades of experience as an Applications Engineer and points out that the distance between these AP modules can be 50 meters, meaning that with 80 modules, machine builders could, in theory, go four kilometers with this system.
Festo has listened to its customers' pain points, and, with the company's global support network, it continually develops products and solutions that drive right at the heart of customer challenges. Given Festo's finger on the pulse of industry, we asked Rice about the trends he sees in industrial automation. He answers,
"I think the trends that I've seen most with in talking to our salespeople is the increase in IO-Link, and the increase in this approach to connecting devices. We see Industrial Ethernet becoming increasingly popular – it is the backbone of automation. We need an intelligent way to pass data up to the Edge and the Cloud, and Industrial Ethernet is that backbone."

Eric Rice, Product Market Manager, Festo North America
"The timing of AP is perfect, because as more and more machine builders are moving away from multi-pin and discrete wiring, and are adopting Industrial Ethernet, they need solutions that are going to help them do that."

Eric Rice, Product Market Manager, Festo North America
The New CMMT-MP Multi-Protocol Family of Servo Drives – Continuing to Innovate
Festo's servo drive portfolio ranges from 300 watts on the smallest drive to six kilowatts on the largest. (There are plans to release two additional drives in late 2023 – a nine kilowatt and a 12 kilowatt, effectively doubling the power to support applications with bigger loads, force, and higher speeds). Festo's 300-watt DC servo drive is designed for stepper motors and other DC servo motors. The servo drives above 300 watts are all AC-based and available in single and three-phase.
The entire product range supports EtherCAT, EtherNET/IP, PROFITNET, and Modbus TCP, essentially all primary Industrial Ethernet fieldbuses on the market. Tom Worsnopp, Product Market Manager at Festo, has been with the company for 12 years. Commenting on their portfolio of drives, he says,
"For most industrial applications, we have a servo drive that can meet the needs of the customer. We have a really great range."

Tom Worsnopp, Product Market Manager at Festo
The CMMT product range has been on the market since 2018 and Festo has continually added functionalities over the years with software and firmware updates. Festo's latest upgrade is the pinnacle: the addition of a new multi-protocol feature. Worsnopp notes,
"With this latest update, the multi-protocol is [emphasis added] the new feature. We have completed a hardware redesign, so the multi-protocol functionality that we added replaces the older series of drives where the customer would order a drive and select between Ethernet/IP, PROFINET, or EtherCAT and there was no opportunity for crossover."

"With the new multi-protocol drive, customers do not have to select which fieldbus they are using when they order it, they simply configure which fieldbus it is going to use by logging onto the drive and using a drop-down menu. This simplifies the ordering process and the commissioning as well."

Tom Worsnopp, Product Market Manager at Festo
The new CMMT-ST-MP compact DC servo drives and CMMT-AS-MP compact AC servo drives make it easier to order and stock these drives – for both the customer and Festo. By adding crossover for these communication protocols, Festo has reduced the number of parts that are stocked by one third, which means good deliveries and unmatched convenience for customers, especially machine builders with multiple projects and end users.
Saving time and money are additional advantages. Worsnopp says, "All the power classes are in stock and ready to ship. Machine builders can order the power class needed and use it on any of the top fieldbuses. With this drive, they just stock the power classes they need, and they configure it during commissioning. So great savings in terms of time and money."
The redesign also includes the ability to add additional functionality with an integrated web server. This allows the servo drive to host a website, allowing the customer to log in to that device with a web browser.
"This means they do not have to use Festo's software to be able to download firmware of a configuration file," says Worsnopp. "For serial machine builders, this simplifies building the machine and software engineering when configuring and commissioning the system. It simplifies integration with the drives for every user."

Tom Worsnopp, Product Market Manager at Festo
More Information
Festo will be presenting their latest product innovations at the Canadian Manufacturing Technology Show (CMTS) in Toronto from September 25 to 28. Stop by their booth 1829 and learn more about their latest innovations for Industry 4.0, IIoT, future-proofing and more.
Visit Festo for more information
Related Product
Easily the star of the show is Festo's lineup of Productivity Tools. These online and downloadable tools have been meticulously designed to address all existing factors in the design of a motion system – and they are all 100% free. These tools include Electric Motion Sizing, Handling Guide Online, Automation Suite, and 3D CAD Configurator.