Rittal Launches a Hot-Shot HVAC Campaign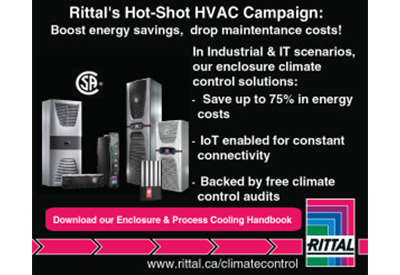 March 2, 2021
From March 1 – June 30, 2021, Rittal is reminding the HVAC/HPAC industry of the importance of energy-efficient climate control solutions, to keep enclosures at the right temperature, thus extending the life of precious equipment, and minimizing downtime and maintenance costs. Rittal's IoT-enabled air conditioners and climate control systems help decrease enclosure energy costs by up to 75% while enhancing efficiency and ROI, both in industrial as well as IT scenarios.
Compliments of Rittal
Rittal is offering complimentary climate audits through their experts and are encouraging you to take advantage of the various Climate Control Configuration tools such as the ChillZone App, Thermal Climate Control App and TopTherm Chiller Configurator.
Five Enclosure Climate Control Challenges
Many people in industrial and IT scenarios believe that their cooling solutions are up to the task, but there are many hidden risks that they will be vulnerable to:
– Contaminants. Any industrial or IT space can be exposed to airborne dust, gasses and moisture that compromise the quality of the air and the performance of the equipment; these may not be adequately removed from the room using only the existing HVAC system.
– Reliability/redundancy. Even a short interruption in power supply to your equipment can lead to downtime and loss of data and the same is true for interruptions in cooling. Most plants and buildings do not have redundant cooling in place and often an AC system breakdown can last hours – a costly risk for industrial and IT equipment.
– Comfort systems cycle on and off. The temperature in the enclosure will decrease when the cooling system is on and increase when it is off, resulting in temperature swings throughout the day that can stress the equipment more than a consistent higher temperature.
– Combined heating and cooling HVAC systems deliver heat in winter. The same ductwork that supplies cool air to the enclosures in warmer months will deliver heated air in colder months. This almost guarantees overheating of the equipment and increases the risk of equipment failure.
– Inability to scale. Every kilowatt of power used by your equipment creates a kilowatt of heat that must be removed. If you were to add an additional rack and more equipment, the existing HVAC system would be even less capable of maintaining the ideal temperature.
Up to 75% energy on air conditioners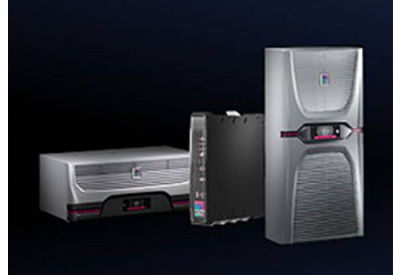 Rittal's Blue e+ climate control solutions are developed with unique hybrid technology, offering up to 75% energy savings! The new stainless-steel variants of the Blue e+ cooling unit series (protection category IP55) are ideal for demanding environmental conditions.
Enclosures heaters to regulate temperature
Enclosure heaters regulate relative humidity, prevent temperatures from dropping below the dew point, and stop condensation forming inside the enclosure. This prevents consequential damage associated with corrosion or electrical short circuits.
Fans offer more pressure, higher air flow
Rittal's fans are Nema 12 out of the box and Nema 3R/4/4X with the rain hood, offering tool-less installation, and flow-optimized air routing.
Cooling Technology for Data Centres
Rittal's innovative cooling units in the Blue e+ series with integral heat pipe, herald a new dimension in efficiency, particularly for edge data centers at the lower end of the output range
Another phenomenal option available is the IoT Interface that makes it easy to integrate the cooling unit in an Industry 4.0 (IoT) environment.
Andre Bousette, President, Rittal Systems Ltd. said, "I am confident that Rittal's climate control solutions will help the HVAC industry to extend the life of their systems in industrial as well as IT fields. Our cooling technology offers unmatched energy savings and are IoT-enabled to allow for real-time monitoring of systems. I hope that key players in the industry avail of our free climate inspections and make use of our various excellent configuration tools too."