Introduction to Industry 4.0 for mechatronics technicians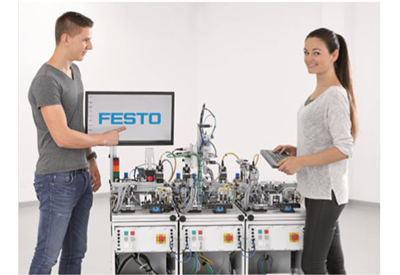 October 3, 2019
Despite increasing product complexity and a growing demand for more customized products, product life-cycles are diminishing. This poses major challenges for manufacturing worldwide, as current production systems are stretched to their limits.
There is now a growing need for new technologies and concepts that will transform industry. This technological and cultural transformation is known as Industry 4.0, or I4.0. A major I4.0 breakthrough is the ability to produce customized products in batch sizes of 1 by using highly flexible, RFID-based production plants.
MPS 203 I4.0 is a comprehensive learning and research environment covering a range of
topics, from the fundamentals of automation technology to modern production facilities that flexibly manufacture single workpieces.
Training Content (Sample)
• RFID technology • Digital product memory
• Service-oriented architectures (SOA)
• Augmented reality
• Supported commissioning
• MES
• Fundamentals of network technology
• OPC communication
• PLC programming
• Application of web services in the production environment
• Maintenance tasks
• Sensor technology in production
MPS 203 I4.0 teaches the fundamentals of RFID technology in the production environment. Alongside reading, changing, and writing RFID tags, students also learn how to connect RFID gateways and read/write devices to a networked production plant. In addition, the problems and hurdles of this technology are explained using practical examples with provided solutions.
Students gain sound knowledge about the structure of digital product memories and the connection to flexible plants, enabling them to develop and implement RFID concepts themselves for real production plants further down the line.
In addition to a practical introduction to MES, students' understanding of the planning, set-up, operation, and maintenance of complex mechatronic systems is also enhanced.
In addition to in-depth training documentation, MPS comes with various digital learning aids.
Using the Festo Didactic QR app, students can scan QR codes to access the MPS information portal containing detailed information about the component in question. Students can find technical manuals here, as well as 3D models, circuit diagrams, pin allocation diagrams, and commissioning instructions.
The Festo Didactic AR app directly supports learning on a mobile device by dynamically displaying useful information for the students as part of the illustration of the plant.
There are also numerous courses available for MPS via the interactive learning tool Tec2Screen. This allows students to learn about components quickly and intuitively, as well as commission them.
The MPS 203 I4.0 learning system is – like MPS in general – highly modular, and therefore offers maximum flexibility when integrating new and existing solutions from the MPS environment.
With concepts and technologies like RFID and MES, MPS 203 I4.0 lays the foundation for Industry 4.0 production learning environments. This makes it easy, even at a later stage, to combine other MPS stations with these technologies, and integrate them into the MPS 203 I4.0 plant and the corresponding MES system.
The modular design and standardized interfaces, also make it feasible to expand into more complex solutions in fields such as mobile robotics.
MPS 203 I4.0, therefore, represents a future-proof foundation for up-to-date training in mechatronics and automation technology.
For more information, visit www.festo.com.