Detect and Protect: See How Teledyne GFD Can Help Deliver Fire Safety at NFPA 2023
June 9, 2023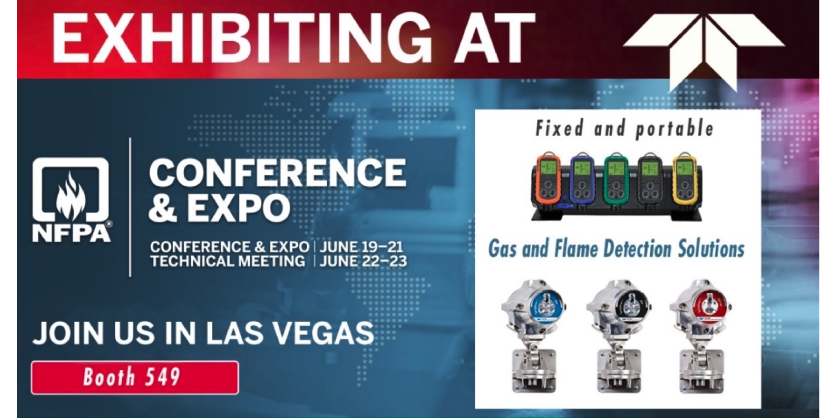 Teledyne Gas and Flame Detection (Teledyne GFD) will showcase a range of innovative technologies at the NFPA (National Fire Protection Association) 2023 Expo in Las Vegas on June 19-21. NFPA is one of the world's most important fire protection events and, in Booth 549, Teledyne GFD will present a range of innovative flame and gas detection solutions developed using decades of design and manufacturing experience.
Product quality and reliability equate to customer trust in the fire protection sector, and. Delivering these attributes relies on proven manufacturing operations. At Teledyne GFD, production processes benefit from a history in manufacturing that extends back over a century. Among the company's global production facilities is its 31,527 ft2 site in Cypress, TX, which manufactures over 15,000 industry-leading gas detectors, control systems, and analysers every year.
Among the fire protection innovations taking centre stage at NFPA 2023 will be the Spyglass™ SG50-F triple IR and UV-IR open-path flame detectors, which offer fast and high-performance optical flame detection over extensive distances and superior false alarm immunity when operating in challenging environments. All Spyglass™ flame detectors are available with optional built-in color or near-infrared video which allows users to see fires remotely and make critical safety decisions from a distance. Color video is proficient at seeing gasoline and jet fuel fires, while the near-infrared video option identifies fires caused by hydrogen and methanol which may not be visible to the naked eye.
Another recent product introduction on display for NFPA visitors will be the GT Fire, which allows firefighters to isolate gas leaks with great accuracy. Offering enhanced sensitivity and a flexible probe, the GT Fire offers superior capabilities in a single instrument so fire crews can react faster and with more knowledge.
Portable natural gas leak detectors such as Teledyne GFD's Gas Laser will also be in the spotlight. This innovative product takes advantage of highly advanced laser technology designed to detect natural gas, delivering enhanced safety and improved detection for fire services and first responders.
Expo visitors will also discover the PS200 portable multi-gas compliance monitor. Compact, lightweight, water resistant, and extremely robust, the PS200 can measure any combination of LEL, O₂, CO, and H₂S. The multifunctional Auto Bump/Calibration (ABC) station, which provides straightforward but intelligent testing and calibration of the PS200, will also be on display.
A range of fixed gas detection solutions will also be featured in the Teledyne GFD booth. Case in point is the flexible and easy-to-use MX 43, an analog and digital controller that continuously measures and controls gases in the atmosphere. The MX 43 gas detector manages both digital and analog channels and covers all needs for a wide variety of gas monitoring applications.
Another stand-out will be the GD10, which detects gas hazards in environments ranging from boiler plant rooms to offshore petrochemical installations. The GD10 differs from other models because it utilizes a silicon-based solid-state infrared source. Its opto-mechanical design and construction are so stable that ultra-fast response speeds are possible without compromising service life or detector stability.
Further fixed gas detectors on display will include the 700 Series, Meridian, and the CTX 300 among others. The 700 Series offers complete protection of the sensor electronics against water ingress and corrosion. The Meridian gas detector accepts all sensor types. Simply attach the specific toxic or combustible sensor to the universal detector head and the Meridian will automatically determine the type of gas to be detected. The CTX300 detector is designed to detect oxygen, CO2, toxic and refrigerant gases. When hazardous levels of toxic gases or oxygen threaten the safety of an unclassified area, the CTX300 detector can satisfy the most demanding safety requirements.
Visitors to the Teledyne GFD booth at NFPA will receive a warm welcome from the company's friendly team of expert professionals who will be happy to discuss any upcoming projects or specific challenges. Protection against fire for citizens, and expensive assets has never been more comprehensive, with options available to suit all types of projects and budgets.
More Information
Teledyne Gas and Flame Detection
Related Story
Teledyne Gas and Flame Detection, a global leader in gas and flame detection solutions, is pleased to announce the launch of its new website, featuring updated informational content and a user-friendly interface.
The website is designed to provide an enhanced experience, including improved accessibility and mobile compatibility.