Electromate Inc. made it to the 2019 List of Best Workplaces for Millennials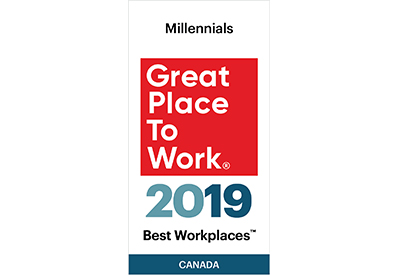 October 1, 2019
Electromate is proud to announce that their organization has been named on the 2019 list of Best Workplaces for Millennials.
Electromate received this honour after a thorough and independent analysis conducted by Great Place to Work.
This list is based on direct feedback from employees of the hundreds of organizations that were surveyed by Great Place to Work. The data has a 90% confidence and a plus or minus 5% margin of error.
To be eligible for this list, organizations must be Great Place to Work Certified in the past year, and…
30% of their employees must fit the Millennial demographic (born after 1980)
They must have minimum 90% positive response to the statement "I am treated fairly regardless of my age"
The organization must meet a minimum consistency index among the different age demographics
"Electromate is honored to be named on the 2019 list of Best Workplaces for Millennials. Creating a 'Great Place to Work' has been pivotal in driving employee satisfaction and engagement", says Warren Osak, Founder and President of Electromate. "Numerous empirical studies have shown that highly engaged employees are more productive and deliver a higher level of customer satisfaction than unengaged employees, and much of our competitive advantage stems from the positivity in our workplace. Electromate prides itself on its commitment to the principles of Kaizen, or continuous improvement. This holds true for the professional and personal development of its employees which has greatly contributed to the creation of our company culture embodying the Core Values of Integrity, Innovation, Enthusiasm, Continuous Learning and Customer Advocacy."
Find out more at www.electromate.com.