Danfoss to Advocate for Energy-Efficient Solutions at IEA Conference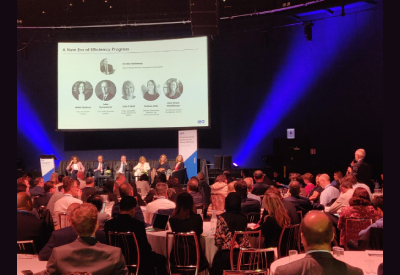 June 3, 2022
International event will focus on energy efficiency and sustainable solutions
Danfoss is proud to provide private sector support to the International Energy Agency's (IEA) 7th Annual Global Conference on Energy Efficiency, scheduled for June 7-9 in Sonderborg, Denmark, near Danfoss' global headquarters in Nordborg. Organized jointly by the IEA and the Danish Ministry of Climate, Energy and Utilities, the conference will focus on the concrete actions required over the next five to 10 years to achieve the CO2 reductions needed to continue towards the global path to net zero emissions.
The conference will bring together leaders from business and politics to focus on how the public and private sector can work together to make progress toward carbon neutral and low-carbon economies. With climate change reaching a critical stage, it is clear we need to act quickly. Decarbonization will require innovative and sustainable solutions for heating and cooling. Danfoss will join the organizers in presenting the need for energy-efficient technologies to build a global path to net zero emissions in the energy sector by 2050.
"It's time to take action on climate change," said Kim Fausing, Danfoss president and CEO. "Everyone needs to roll up their sleeves, take the green transition much more seriously and implement the technologies that are readily available today. The conference will underline the importance of urgent action but will also show decision-makers how solutions such as those at the local supermarket, housing association and manufacturing industry are already implemented and making a real difference. "
Danfoss has already established itself as a leader in sustainable heating and cooling technologies, such as oil-free compressors and variable-speed drives that power more energy-efficient and climate-friendly heat pumps, rooftop units and chillers. Danfoss technologies are helping lead the way to more efficient and sustainable solutions to power, heat and cool our buildings, infrastructure, and industries. As customers look to increase energy efficiency and reduce carbon emissions, Danfoss components are helping them implement innovative solutions such as heat recovery, hybrid HVAC systems and CO2 chillers.
"Energy efficiency should be our first fuel," said John Galyen, Danfoss North America president. "Energy efficiency must be our priority if we want to make progress on preserving our planet. Danfoss has proven, available and under-deployed technologies that are helping our customers reduce their carbon footprint and energy costs."
For more on the 7th Annual IEA Conference, click here