ArcelorMittal Construction Orders Digital and Control System Technology for Steel Mill in France
ABB will install its Manufacturing Operations Management system (MOM4Metals) on cold rolling mill at Contrisson plant
ABB will modernize technology for Roll-Gap Control (RGC) and Automatic Gauge Control (AGC) on the same mill
ABB's technology will help the steel producer to bring productivity to a new level, improve quality and performance
ArcelorMittal Construction has awarded ABB a contract to deploy solutions specifically designed for metals processing at its cold rolling mill in Contrisson, France, as part of a modernization project. The solutions, which include ABB Ability™ Manufacturing Operations Management for metals (MOM4Metals), Roll-Gap (RGC) and Automatic Gauge Control (AGC), will help the world's largest steel producer to bring productivity to a new level, improve quality and performance.
ABB MOM4Metals product, based on precise data analytics, improves information sharing, production planning, execution, reporting, asset monitoring and operational performance optimization. It is designed for and used in various metal production processes from rolling mills to processing lines delivering clear benefits over generic industry-agnostic MES platforms.
ABB is also modernizing advanced RGC and AGC technologies to reduce thickness deviations and off-gauge length. The project is expected be completed in the first quarter of 2024.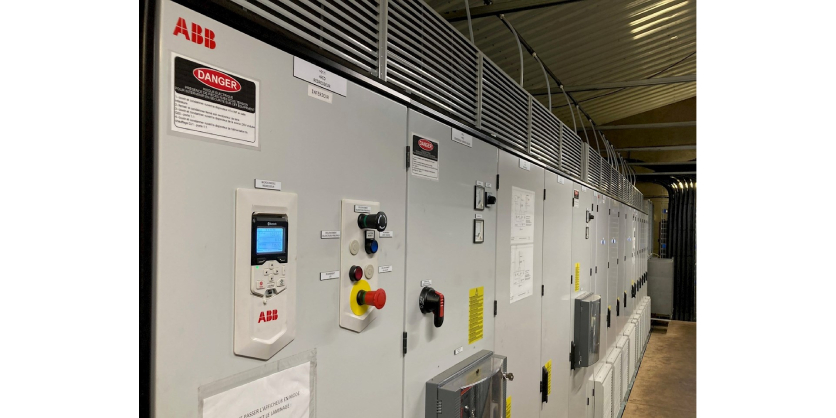 "ArcelorMittal Construction has placed its trust in ABB know-how and solutions for cold mill applications," said Frederik Esterhuizen, Global Business Line Manager for Metals at ABB. "Through discussions with the customer we have been able to utilize our deep metals expertise to refine the ABB solution to meet their needs. ABB solutions enable cold rolling mills to improve and maintain performance and meet quality requirements in terms of thickness tolerances, flatness and surface characteristics via precise process control and equipment lifecycle management."

Frederik Esterhuizen, Global Business Line Manager for Metals at ABB
"ABB will bring a combined MOM4Metals and RGC/AGC automation solution specific to metals processing to our modernization project at Contrisson," said Frédéric Geoffroy in charge of process and automation department at ArcelorMittal Construction. "This stands out from standard automation and digital solutions and we are pleased that our needs can be met by one supplier with whom we have a long standing relationship at and beyond this site. ABB successfully revamped the drive of the cold rolling mill previously."

Frédéric Geoffroy in charge of process and automation department at ArcelorMittal Construction
"For ArcelorMittal Construction France, leader in the field of steel building envelopes, ABB supports us through its business solutions and allows us to offer our customers innovative solutions based on decarbonized and sustainable steel."
Technology is a decisive factor in determining the quality of rolled products. ABB's rolling mill solutions, including metals specific electrical, process automation and control technologies, leverage over 100 years of metals industry expertise to enable increased speed, reduced non-rolling time and threading problems while allowing for precise process control in terms of strip surface, flatness, thickness, off-gauge length and more to deliver improved strip quality, productivity and resource efficiency.
More Information
ABB Ability™ Manufacturing Operations Management
Related Story
ABB has officially opened a global research and development (R&D) center for the pulp and paper industry in Dundalk, Ireland.
The new multi-million-dollar ABB Dundalk R&D Centre is at the heart of ABB's automation and digital offering for the sector and will be home to the ongoing evolution of the ABB Quality Control System (QCS). New ideas and products will be piloted and managed into the suite of applications for improved quality in the complex world of papermaking, where manufacturers often struggle to balance ever-changing variables to produce paper to customers' particular specifications. This will include solutions for measuring, adjusting, optimizing and controlling quality as the paper web makes its way through the paper machine to form the end-products, including paper and board.