Successful trade fair: SPE partnership HARTING – TE Connectivity – HIROSE, first series parts presented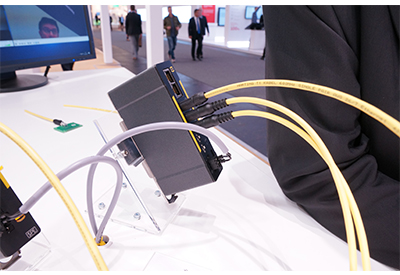 May 16, 2019
HARTING is looking back at a successful Hannover Messe. The field of Single Pair Ethernet in particular had a whole series of plenty exciting news to report, with two new partnerships and the first series parts.
As well as the first series parts of the already internationally standardised single pair ethernet connection technology, HARTING Technology Group's presentation at Hannover Messe 2019 also included an SPE live demonstration consisting of a video transmission via an SPE switch and media converter. Internationally standardised in accordance with IEC 63171-6, these SPE interfaces include both an IP20 version and M8 and M12 IP65/67 versions and have already been included in international selection processes for IEEE802.3, ISO/IEC and TIA.
"Not only have we made an interface that was completely newly developed under HF properties the standardised market standard, we also have our eye on every aspect of the technology for our customers," says Matthias Fritsche, Product Manager Device Connectivity at HARTING Electronics. "Single Pair Ethernet represents more than just a new interface – it is a totally new approach and provides new options for Ethernet communication. A huge new ecosystem of connectors, sockets, cables, Ethernet chips, transmitters, protocols, test devices, standards, target customers, markets and fields of application now has to be designed."
That is why HARTING began work some time ago to ensure the necessary standards in all international standards committees, such as ISO/IEC, IEEE802.3 and TIA. Together with numerous supporters, the company succeeded in making its own proposal for an SPE interface the future standard for the industry. This standard for SPE interfaces will be published as IEC63171-6 by the end of 2019 and is also designed for rough industrial environments.
Cabling standards for the use of SPE are currently being updated, in the form of amendments to the ISO/IEC 11801 and EN 50173 series. In the TIA42 papers, the update takes the form of an addendum: TIA-1005-A-3. All these supplements have largely identical content. These cabling standards give the user information about the structure of the cabling, the cabling components to use to achieve the performance specifications, and the thresholds for checking the cabling. They are thus the most important instrument for setting up and commissioning SPE cabling. At the same time, by providing references to the component standards (e.g. plug connectors in accordance with IEC 63171-6), they ensure that devices and cabling are compatible. This compatibility is a fundamental requirement for the function of networks and connections based on SPE and thus the basis for the IoT/IIoT. Although cabling components other than those in ISO/IEC 11801-3 Amd.1, for example, can be used, this is not compliant with the standard and thus carries the risk of incompatibility and loss of function.
Kevin Behnisch, Divisional Manager Technology and Member of the management Board of DKE – German Commission for Electrical, Electronic & Information Technologies in DIN and VDE, emphasises the importance of standardisation at SPE. "By having succeeded in standardizing this new SPE technology at ISO and IEC, we have created an optimal basis for worldwide application. The conversion and implementation of the set international standard IEC 63171-6 for SPE into German national standards (DIN) is ultimately of great relevance for users. This gives them the assurance that the products appearing on the market comply with the standards and the associated quality. This is an important prerequisite for the safe export of machines with integrated SPE technology".
Not only the standards set are outstanding here – the SPE partnerships announced at the trade fair are too. HARTING was delighted to announce the expansion of the long-standing partnership with HIROSE and to gain TE Connectivity as another major partner: two big players who will support us on our path to slim cabling for the IIoT.
IIoT is an important keyword for Eric Leitjens, Global Product Manager Industrial Communication TE Connectivity. "We see the Internet of Things as one of the most relevant current industry issues. The associated need to get more and more data from the field into central computer systems is clearly there and only with this SPE technology will it really be possible".
HARTING has also received many enquiries from other potential partners. Intensive discussions on what this collaboration might look like and the establishment of a practical ecosystem are ongoing.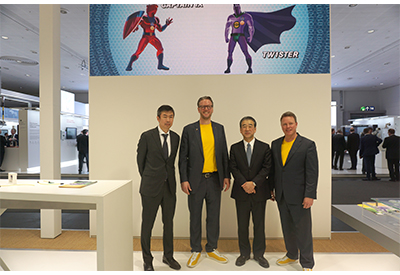 Users of the HARTING SPE plug connector T1 Industrial deserve a mention here. Initial applications at Lütze Weinstadt, Murrelektronik GmbH, Indel AG Switzerland and EKF Hamm were all on display at the trade fair, including cable assemblies, I/O-controls, a 5-port switch and a communication board for 1000BASE-T1. HARTING itself provided an amazing live demonstration with first series components. Visitors were able to watch a live broadcast from two vision sensor camera systems via a HARTING switch and media converter, seeing the new technology in action for themselves.
There was particular interest in the single pair ethernet ecosystem. This demonstrates HARTING's efforts to have their eye on the entire world of this new technology and to provide customers with comprehensive expertise – in terms of both infrastructure and addressing the manufacturers of chips, semiconductors, magnetics and other components that are being developed. HARTING thus hopes to set up a strong network of partners and users that will succeed on the path to the Internet of Things.
HARTING has set the standard for the infrastructure of the IIoT. Be part of it and design your application of tomorrow with HARTING.
For more information, visit HERE.