Rockwell Automation Named Overall IoT Company of the Year in 2019 IoT Breakthrough Awards Program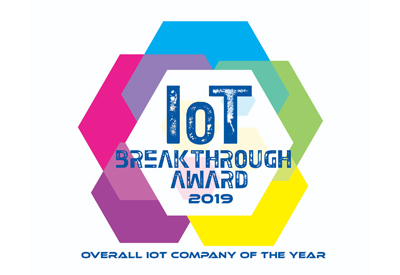 January 10, 2018
IoT Breakthrough, an independent organization that recognizes the top companies, technologies and products in the global Internet of Things (IoT) market, recently announced Rockwell Automation, the largest company dedicated to industrial automation and information, as winner of the "Overall IoT Company the Year" award in the global 2019 IoT Breakthrough Awards program.
The mission of the IoT Breakthrough Awards program is to recognize the innovators, leaders and visionaries from around the globe in a range of IoT categories, including Connected Home and Home Automation, Industrial and Enterprise IoT, Smart City technology, Connected Car and many more. This year's program attracted more than 3,500 nominations from companies all over the world.
"Our 'Overall IoT Company of the Year' award considers nominees from among all IoT categories, from smart home tech all the way through industrial solution providers, and Rockwell Automation set itself apart this year with an impressive combination of innovative and proven industrial IoT solutions, partnerships and investments," said James Johnson, managing director at IoT Breakthrough. "The portfolio of IoT solutions offered by Rockwell Automation includes cutting-edge technology in artificial intelligence, augmented reality and other advanced IoT applications, and we see the company on the front lines of delivering on the promise of digital transformation and the Connected Enterprise. Congratulations to Rockwell Automation for their breakthrough year and this 2019 IoT Breakthrough Award designation."
"Rockwell Automation is firmly committed to helping our customers realize unprecedented levels of productivity and sustainability by combining the best of industrial automation with the latest in digital technology, bringing the Connected Enterprise to life," said Blake Moret, chairman and CEO, Rockwell Automation. "We are proud to be recognized by IoT Breakthrough for our ongoing work to bring people, processes and technologies together and deliver smarter, more connected industrial IoT solutions to the world around us."
Rockwell Automation delivers a highly differentiated integrated control and information portfolio including IoT solutions designed to help customers maximize performance, advance innovation and drive growth across their operations. Through a broad portfolio of industrial IoT solutions, as well as a $1 billion equity stake in PTC, Rockwell Automation has one of the most comprehensive, flexible IoT offerings in the industry.