Danfoss ready with first 3D printed thermostat part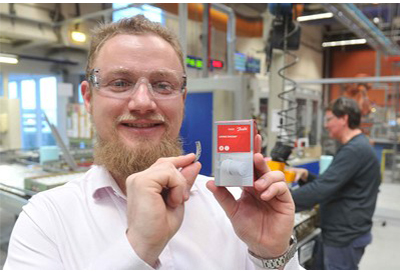 February 13, 2019
Half a centimeter wide, two centimeters long and shaped like a half-moon.
That's the brief description of the component which Danfoss Heating's factory in Silkeborg recently developed together with Danfoss Additive Design and Manufacturing Center, Nordborg – in everyday language the 3D printing center.
The component now sits inside a series of so-called return-temperature limiting thermostats which are on the way to a British distributor of heating and ventilation solutions. And this marks the first time that a 3D printed component ends inside a finished Silkeborg product.
So far, the factory's R&D colleagues have used 3D technology for prototyping and to print components for use in the machines on the production floor.
"Now we take the last step – out to the customer. The technology is mature and quality very high. 3D printing was definitely the right way to produce this component," says Sander Skovhus Michelsen, Segment Head, 3D printing, Danfoss Heating.
The customer has ordered 3,000 thermostats – a relatively low number. And this is the reason that 3D printing was the most cost-effective production method. The alternative – injection molding – requires that you first make a mold which can easily cost up to 10,000 Euros.
This means that, for molding to be competitive, you typically need relatively large orders. In the specific case with 3,000 components, molding would, says the Silkeborg factory, have increased production cost by roughly 80 percent.
It would also have been more time consuming. External vendors, which make the molds, typically need up to 12 weeks. Danfoss Additive Design and Manufacturing Center spent only five weeks developing and printing the components.
"Speed in product development and delivery is absolutely key for customers. And, here, 3D rules. So, we will probably see many more 3D printed components in finished products from now on," says Bjørn Sejr Nielsen, Business Development Director, Danfoss UK, who has been involved in the project.