Cabinet-free drive technology: Lower costs and better data availability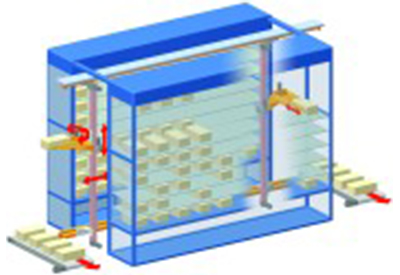 March 04, 2019
Cabinet-free servo drives for load handling attachments (LHA) on storage and retrieval machines reduce cabling by up to 90 percent and enable faster storage and retrieval. In addition, the IndraDrive drives from Bosch Rexroth provide additional operating data for higher-level IT systems and condition monitoring applications via open interfaces and web servers.
Motor and drive control unit are combined in a compact unit in Bosch Rexroth cabinet-free drives. A hybrid cable for power supply and communication supplies the first drive directly, all others are connected from there. This reduces the cabling effort for LHA by up to 90 percent and lowers system costs, as the cooling of the control cabinets, which was often necessary up to now, can usually be eliminated. Data such as vibrations, temperature, torque, position and speed are recorded via the motor and the decentrally wired sensors. This data forms the basis for condition monitoring solutions and helps to detect wear before it leads to a failure.
The drives enable coordinated movements and, in conjunction with a laser measuring system, increase precision during storage and retrieval. The software functions also include active vibration damping and prevention, which makes the stacker crane much more dynamic and thus shortens positioning times. This leads to an increase in productivity of the stacker crane. A large number of safety functions are also integrated, which can be flexibly adapted to machine requirements. The safety functions are certified up to Cat 4 PLe according to EN ISO 13849-1 and SIL3 according to EN62061.
With a multi-ethernet interface, the drives can be integrated into a wide variety of environments, and an integrated web server simplifies diagnosis and operation. Users program functions in high-level IT languages and can directly access core functions and drive data via the software technology Open Core Interface for Drives. The interface technology thus enables simpler and faster data exchange with IT-based applications.
In combination with a wide range of IndraDrive servo drives for the main axis of the storage and retrieval machines, users can further reduce operating costs. With the help of intelligent energy management from Bosch Rexroth with feed-in and feedback, the energy consumption of storage and retrieval machines with coordinated cabinet-free and cabinet-bound drives can be reduced by up to 30 percent.