Blackwater Mine Moves Forward, Creating Jobs and Economic Opportunities
March 20, 2023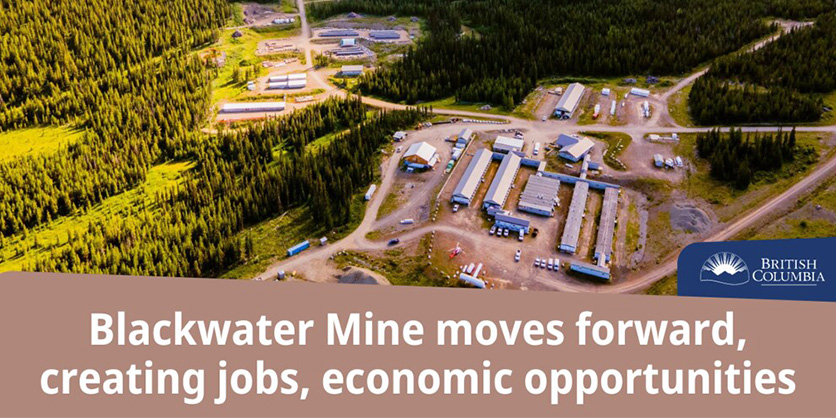 The Province has approved a Mining Act permit for a gold and silver mine that will provide jobs for hundreds of workers and generate economic benefits for communities and First Nations throughout British Columbia's central Interior.
"Congratulations to Artemis Gold, the Lhoosk'uz Dené Nation, Ulkatcho First Nation and Carrier Sekani First Nations, and communities in the area for their work together to advance this critically important project through the mine-permitting and review process to final approval and construction," said Premier David Eby. "The Blackwater Gold project will put lots of people to work and create a wide range of opportunities and benefits for local businesses, communities and First Nations, while ensuring the highest standards of environmental protection, mitigation and sustainability."

Premier David Eby
It's anticipated the project, located 112 kilometres southwest of Vanderhoof, will create 825 direct full-time jobs per year during the construction and expansion phases of mine development, and 450 full-time jobs per year during its 22-year operating life. The project is expected to contribute $13.2 billion to the provincial economy during its lifetime, including $2.3 billion in provincial revenue.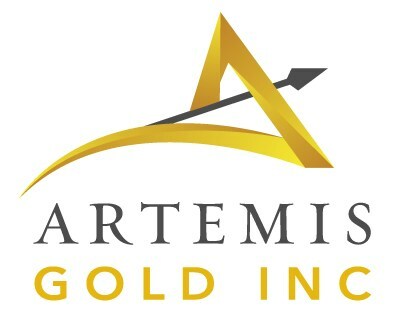 Connection to the BC Hydro grid will provide Blackwater Mine with a sustainable source of low-carbon hydroelectricity and the potential to produce gold and silver with one of the lowest greenhouse gas emissions in the world.
The mine site is located within the territories of Lhoosk'uz Dené Nation and Ulkatcho First Nation. The First Nations have been engaged in all aspects of the project – from exploration, to permitting, to environmental assessment. The mine's owners and both First Nations have a project participation agreement in place.
Detailed terms of the agreements are confidential and between the parties, but generally include provisions for environmental protection and mitigation, employment and contracting opportunities, training, health and wellness support, and long-term economic benefits.
In 2020, the Province signed an economic and community development agreement with the Lhoosk'uz Dené and Ulkatcho First Nations to share mineral tax revenue from the project.
With approval of the Mines Act permit, Artemis Gold is able to move forward with major works construction activities. The first gold pour is scheduled for the second half of 2024.
Quotes
"We would like to thank the Government of British Columbia, the Lhoosk'uz Dené Nation, Ulkatcho First Nation and the Carrier Sekani First Nations for their substantial efforts during the consultation and review process for the B.C. Mines Act permit. Blackwater represents a generational opportunity to create employment and economic activity for our First Nation partners, each of their communities and B.C.'s Cariboo region. This approval is further evidence that Blackwater meets the world-class standards for responsible mineral exploration and development in British Columbia."

Steven Dean, chairperson and CEO, Artemis Gold Inc
"Council of Lhoosk'uz Dene Nation are very pleased that Artemis Gold Inc. has recently obtained the B.C. major mines permit. We are very grateful for all the hard work that has made this possible. We look forward to the future with our partners Ulkatcho First Nation and Artemis Gold Inc. Our joint collaborations will support our community to thrive for generations to come."

Council of Lhoosk'uz Dene Nation
"Ulkatcho First Nation has been involved in the development of the Blackwater Gold Project in earnest since 2015 by working with New Gold Inc. throughout the environmental assessment process. Today, we continue to work in collaboration with Artemis Gold Inc., Lhoosk'uz Dené Nation, and both the federal and provincial governments, to achieve the best mitigation results for all Canadians. We are pleased to hear the major mines permit has been approved. A lot of hard work has been done by all parties involved."

Chief Lynda Price of Ulkatcho First Nation
"British Columbians will benefit from hundreds of new jobs of this new mine, with both its construction and multiple decades of operation. Artemis Gold has designed a world-class mine that brings First Nations in as partners in training, business development and employment, helps to meet provincial climate targets with the use of sustainable, clean electricity, and generates significant economic activity in the local region."

Josie Osborne, Minister of Energy, Mines and Low Carbon Innovation
More Information
The Blackwater Gold Project: https://www.artemisgoldinc.com/
Mine permitting in B.C.:
https://www2.gov.bc.ca/gov/content/industry/mineral-exploration-mining/permitting