Advanced Motion & Controls Ltd. Now Supplies Banner Solutions to Central Canada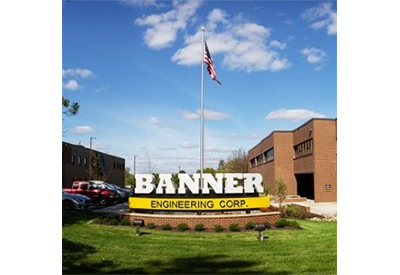 April 20, 2021
For 55 years, Banner Engineering has been an international force in industrial automation. Last year, Advanced Motion & Controls Ltd. began to supply Banner solutions in Eastern Canada. The organization is now pleased to offer the complete breadth of the Banner product line to the Ontario marketplace. With a lineup that includes sensors, vision sensors, LED lights and indicators, and wireless products, Banner satisfies the needs of many businesses, from Fortune 500 corporations to emerging market innovators, helping them to solve challenging issues and achieve automation goals.
Developing new and innovative products
Founded in the 1960s as a small engineering firm focused on personal service and smart, customized solutions, Banner Engineering has grown into a globally recognized leader in automation. Today, Banner launches hundreds of products a year and offers the industry's widest selection of high-quality automation. A Banner sensor is installed somewhere in the world every 3½ seconds.
Businesses trust Banner solutions as smart, well-built standard and custom products, delivered with personal, attentive service. Every success boosts the manufacturer's technical and production capabilities while increasing its industry expertise and strengthening its customer and distributor relationships. Banner is devoted to developing new and innovative products of the highest quality, meeting the requirements of every client and operating with honesty and integrity.
Among the Banner solutions that Advanced Motion & Controls Ltd. represents include:
– Bar-code readers – laser scanners, imager-based readers, and reader software.
– Lighting and indication – tower lights, touch buttons, LED indicators, vision lighting, illuminated e-stop buttons, and power supplies.
– Machine safety – safety light curtains, two-handed controls, safety switchers, laser scanners, and in-series diagnostics.
– Machine vision – vision sensors, smart cameras, lighting, controllers, firmware, and bar-code readers.
– Sensors – photoelectric, ultrasonic, and radar sensors, measuring arrays, fibre-optic amplifiers, and units for laser distance measurement.
– Software – Pro Editor software for indication, connected data solutions for Industry 4.0, and software for sensors, machine safety, and bar-code readers.
– Wireless solutions – wireless kits, radios, controllers, indicators, and buttons.
Through total involvement of its staff and commitment to constant improvement, Banner always makes products that meet a strict quality standard.