Mazak Further Expands Processing Flexibility With HYBRID FSW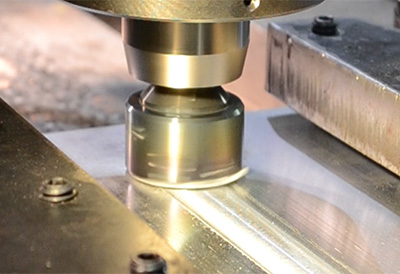 March 2019
Some of the biggest challenges in manufacturing involve joining pieces of metal without altering their microstructure, creating substantial heat-affected zones, applying filler material or making the metal porous, especially where vastly different shapes and dissimilar metals come together.
As Mazak continues to advance the flexible talents of its HYBRID Multi-Tasking machines, one of the newest – and most innovative – of these capabilities lies in friction stir welding (FSW), a technology that addresses these joining challenges with new approaches that weren't readily available just a few years ago.
Best of all, Mazak combines FSW technology – which produces better welds than conventional methods – with conventional part machining capabilities for complete part processing on one highly productive multi-tasking platform.
Mazak has signaled its commitment to FSW technology with the integration of new acquisition Mazak MegaStir to the company and an ongoing commitment to further development of FSW as a pioneering part of its HYBRID Multi-Tasking machine concept. Since 2002, MegaStir has led the industry with improved FSW innovation and applications, becoming the global leader in the development and refinement of this technology. Designed for endurance and quality welding, MegaStir tools consistently produce top quality, high strength welds in a single pass.
Once the province of big companies who could afford the high price tags of custom, single-purpose machines, FSW has reached a more nearly mainstream role in which it incorporates fluently into subtractive multi-axis machines. The Mazak VTC-300C FSW and VTC-800 FSW incorporate the FSW process through spindle capability and programming flexibility on the SmoothG CNC. Both machines are Kentucky-made HYBRID Multi-Tasking products that feature a powerful 40-taper spindle, full traveling-column design and a fixed table for extremely long, heavy workpieces or multiple workholding fixtures.
HYBRID Multi-Tasking with FSW capability works especially well in semiconductor production, in manufacturing batteries and battery trays, and in producing vehicles, especially hybrid and electric models. For example, FSW is used to attach servo-drive motors to each wheel of electric cars, and shipyards employ FSW to join decking plates for aircraft carriers. In the energy industry, welded components can't go "down the hole" on deep drilling projects because welds become weak points on parts, but FSW joints maintain the same strength as the surrounding overall material.
As part of a Mazak HYBRID Multi-Tasking system, FSW produces lighter-weight parts and pure, clean joints that are stronger, higher quality and more durable than MIG welding and other options. It also requires less electricity and eliminates the problem of weakened material properties that can occur with conventional welding. These FSW technologies represent developments pioneered by Mazak MegaStir.
Friction stir welding outdoes MIG welding because the FSW process uses a solid-state combination of frictional heat with forging pressure to create full-penetration defect-free joints. A non-consumable FSW tool called a pin softens and stirs part material in a process that involves no powder or wire additives. Weld quality typically reflects material type; tool angle; traversing and rotation speeds of the tool; pin length, diameter and geometry; and the diameter of the tool shoulder, which changes weld diameter.
During the FSW process, neither the FSW tool nor the workpiece itself melts, which induces less heat into parts than other welding techniques, reducing heat-affected zones. FSW's rotating round tool plunges into workpiece material under vertical pressure, dwells momentarily to create a heat pool of plasticized material and then traverses along the workpiece to create the weld. The process moves material from one side to the other, breaking down grain structure and allowing the grains to regrow while the tool shoulder constrains the direction in which they form. That controlled, refined grain regrowth consolidates the welded joint, making the material stronger while retaining its original thermal and chemical properties.