Festo's OVEL vacuum generator packs a lot of capability in a tiny package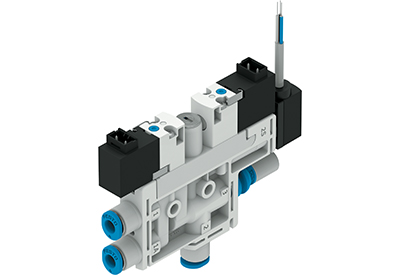 May 30, 2019
Festo's newest compact vacuum generator, the OVEL, addresses the need for an economical, fully integrated unit that is very lightweight, versatile and easy to deploy and maintain, even for its size class. It's ideally suited for applications that involve quick, reliable small-parts handling. Its tiny size (a minimum housing width of 10 mm) makes the OVEL an excellent choice for deploying in small spaces close to the gripping area. That minimizes the length of tubing required, which in turn enables fast cycle times with less compressed air consumption. It also means up to eight OVEL can be linked on a single supply manifold.
The OVEL offers much of the same functionality and convenience of larger vacuum generators, like Festo's OVEM series. The integrated solenoids – one for the ON/OFF function that is standard and an optional ejector pulse valve – assure short switching times with fast vacuum build-up and extra fast purging respectively. That rapid purging capability accelerates the precise and safe placement of the workpiece in high speed pick and place operations. After the vacuum is switched off, an electric pulse is generated by the solenoid to release the workpiece and purge the vacuum rapidly. The compressed air supply for the ejector pulse can be provided by the unit's supply port or via a separate built-in connection.
Other options available with the OVEL include a vacuum sensor (pressure sensor SPAE or pressure transmitter SPTE) that provides an electrical signal for monitoring vacuum levels, a feature that also can alert operators to a leakage issue or a dropped workpiece. And an optional open silencer not only dampens noise for quiet operation, but also reduces contaminant build-up for maintenance-free operations.