Teco Westinghouse: NEMA PREMIUM EFFICIENCY TEFC MV – SEVERE DUTY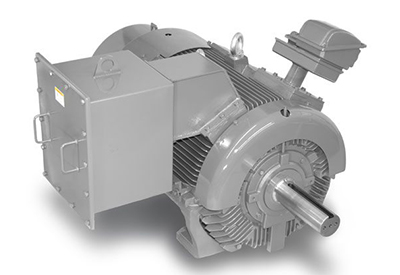 September 17, 2019
NEMA 3-Phase Motors
60Hz, 2300/4000V
NEMA Design B, Continuous Duty
Class F Insulation, 40°C Ambient, 1.15 S.F.
For more than a century, TECO-Westinghouse motors have been recognized as industry examples in dependability and quality. The Global TEFC motor continues to provide the high quality and reliability that you have come to expect from TECO-Westinghouse. The feature packed Global TEFC has been designed and built for the most demanding applications in the industry.
Couple your Global TEFC with our TECO VFD's for energy savings & speed control. TWMI offers a variety of heavy industrial drive and motor starting solutions.
Features
150-2000HP
Totally Enclosed IP55 Design
60Hz, 2300/4000V
Horizontal F1 Mount
3600, 1800, 1200 & 900 RPM
NEMA Premium Efficiency
1.15 S.F. Sine Wave Power
Class F Insulation
Class B Temperature Rise
Max Elevation 3300ft
Continuous Duty
NEMA Design B
40°C Ambient
Open Bearings with Regreaseable Provisions
Insulated NDE Bearing
Polyrex EM Grease
Copper/Copper Alloy Rotor
Cast-Iron Frame, and End Brackets
Fabricated Steel Conduit Box and Fan Cover
Aluminum Fan 4, 6 & 8 Pole, Non-Sparking Plastic Fan 2 Pole
Number of Leads: 6
Solderless Lug Terminals on All Leads
Grounding Terminal Inside Main Terminal Box and on Frame
Paint System: Phenolic Rust Proof Base with Polyurethane Top Coat
Stainless Steel Nameplate
1045 Carbon Steel Shaft Material
Labyrinth Type Steel Flinger on Both Ends
Form Wound Windings With Complete VPI Treatment
Bi-Directional Rotation Except 3600RPM Motors
Winding RTD's, Space Heaters and Provisions for Bearing RTD's
Vibration Probe Mounting Provisions
CSA Certified for Class I, Division 2, Groups B, C & D (Class I, Zone 2, Groups IIB+H2, IIB & IIA)
CSA Certified for Class II, Division 2, Groups F & G
Suitable for Across the Line or Reduced Voltage Starting
*CSA Certified for use on VFD (Please Contact TWMI for Speed Ranges)