SEW-EURODRIVE: Industrial Gear Units to Go – ATO5 Industrial Gear Units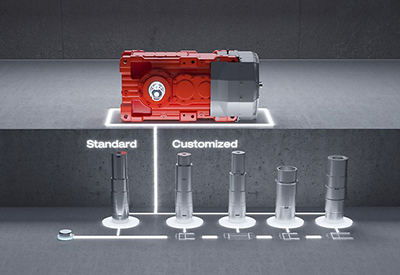 October 18, 2021
In addition to robustness, individuality and high torque, industrial gear units are often associated with long delivery times. SEW-EURODRIVE is now bringing an end to these long delivery times. Their delivery time offer ATO 5 is now joined by ETO 15. For you, they will be faster and deliver your solution promptly – whether from their modular system or with customer-specific adaptations.
A delivery time program that has everything covered
This is very good news for design engineers, purchasers, maintenance staff and anyone who is in a particular hurry – whether they work in plant planning, machine design, project purchasing, in the service workshop or on the construction site. These industrial gear units now get to you even faster, getting your application up and running in no time.
This is made possible by SEW-EURODRIVE's to-go program with:

Industrial gear units assembled in only 5 working days
ATO 5 – Assemble-To-Order: All ATO 5 industrial gear units from SEW-EURODRIVE's proven modular system leave their Bruchsal large gear unit plant just 5 working days after your order at no additional cost.
The standard helical and helical-bevel gear units of Generation X.e in sizes up to 175 kNm and the standard planetary gear units of the P series up to 360 kNm are available as ATO 5 products – including almost all options.
It hardly gets any faster than this! Unless you have an emergency: Should your machine ever come to a standstill, SEW-EURODRIVE can ship the replacement gear unit to you after just one working day. That is maximum flexibility and operational reliability for all those who are in a hurry.
Industrial gear units modified in only 15 working days
ETO 15 – Engineer-To-Order: Many gear units require customer-specific modifications, such as special output shafts, housing rework and preparations for use at low temperatures or special piping. With ETO 15 – the program for shortened delivery times – they can now also deliver modified industrial gear units of the X.e and P series even faster.
Also available here are the modified industrial gear units based on the standard helical and bevel helical gear units of Generation X.e in sizes up to 175 kNm and the standard planetary gear units of the P series up to 360 kNm.
But SEW-EURODRIVE can also deliver individual solutions, completely customer-specific, outside their modular system after only 15 working days.