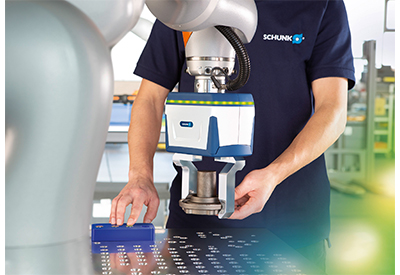 August 15, 2019
For human beings and robots to be able to work harmoniously in communal machining areas without any separating protective barrier, strict safety requirements have to be complied with. In short, no collisions that might harm the human being or damage machinery may occur. As a manufacturer of HRC certified gripping system components, SCHUNK made a conscious decision to take occupational safety aspects into account early on. In this way, safety aspects are incorporated into new gripping systems right from the outset. This shortens the development process with standard components, lowers costs and accelerates application-specific HRC projects.
"Validation of HRC applications poses a particular challenge," reports Prof. Dr. Markus Glück, Managing Director of Research & Development at SCHUNK. On the user side, there has been considerable uncertainty about how to actually implement occupational health and safety requirements in guidelines and standards. "For humans and robots to collaborate safely, not only is comprehensive knowledge of the robot application required, but also specialist knowledge of risk assessment," Glück points out. Since no one HRC application is the same as the other, an individual risk assessment is required every time. "Force, speed, movement paths of the robot and the workpiece in particular, including the workpiece carrier pose hazards for the worker." These either have to be limited by the use of inherent protection measures or, if necessary, by use of additional measures for risk protection, stresses Prof. Dr. Glück. "Our goal is to provide robot manufacturers, integrators and system builders with mature, independently tested components which they can use to realize collaborative scenarios comparatively quickly and certify them."
Certified Co-act series
The Co-act EGP-C series certified for collaborative applications demonstrates how this actually looks. The gripper portfolio comprises four sizes, is designed for simple handling tasks and can be intuitively installed on virtually all common lightweight robots as a Plug & Work solution. "With more than 400 product installations currently in place at customers and partners, Co-act EGP-C has provided impressive proof of its maturity," reports Markus Glück. The gripping force acting on the finger, which has an inherently safe design, is limited to a maximum of 140 N for safety reasons. High-performance programming modules and plug-ins simplify the installation. Standardized attachment fingers with interchangeable inserts for universal use make it easier for newcomers to enter the world of collaborative robotics. "Where human beings and robots share a machining area, edges have to be rounded so that human beings are not cut if the gripper scrapes past them or actively presses against the person," emphasizes Glück. "Likewise entrapment of fingers and skin has to be prevented". A clear visualization of the current operating situation via color LEDs also creates trust.
Consultation during product development
With the Co-act EGL-C, SCHUNK is going one step further. With this powerhouse, it has been possible for the first time ever to produce a gripper for collaborative applications where the gripping force acting on the finger exceeds the 140 N limit considered to be not harmful to health. As with the collaborative small components gripper SCHUNK Co-act EGP-C, SCHUNK also placed great importance on the Deutsche Gesetzliche Unfallversicherung (DGUV) accompanying the product creation process for the Co-act EGL-C. This collaboration has facilitated communication early on and efficient monitoring and observation of standards. In addition it has been possible to gain experience of how safety assessment and certification can be designed so it is user friendly, without compromising on quality when it comes to safety. "The safety concept of this gripper is highly sophisticated," explains Prof. Dr. Glück. "By means of timely consultation during the development of the gripper, we were able to ensure that, when it came to safety electronics, safe control technology and the safety concept as a whole particular attention was placed from the outset on observation of the standards and pertinent legal regulations." he points out further.
Gripping in three phases
A safety intelligence system developed by SCHUNK and for which a patent is pending divides the gripping process in the Co-act EGL-C into individual phases. As long as there is a danger that human hands or fingers could be trapped, the integrated intelligence system limits the gripping force to a harmless 30 N. Only from a workpiece distance of greater than 4 mm, when there is no danger of entrapment, do the gripper fingers approach with the freely definable gripping force of up to 450 N. If the system senses yielding in this closing phase, for example because a workpiece is being gripped that is too small, and the operator wants to remove it manually, then this motion will also be automatically stopped. The same applies if the anticipated workpiece dimensions are exceeded by 2 mm if, for example, no part is available. In the third phase, the gripper finally detects whether the workpiece is safely gripped and tensions the brake. As a result the SCHUNK EGL-C fulfills the requirements for safe human/robot collaboration and guarantees that gripped parts, which in force-fit gripping can weigh up to 2.25 kg, are also not lost in case of an emergency-off situation and the associated full-braking. In form-fit gripping, up to 8 kg are even possible.
Modular safety concept as a goal
Nevertheless when it comes to certification, there remains much to be desired: "For HRC to be able to live up to its full potential, a solution is required that enables both integrators and operators to be able to realize collaborative processes on their own with reasonable effort. Including occupational health and safety validation," stresses Glück. Modular safety concepts as proposed by SCHUNK and which it aims at with its range of certified grippers can provide users with orientation and simplify occupational health and safety validation enormously in individual cases. "If users could count on certified components when designing a human/robot workstation, the introduction of human/robot collaboration in day-to-day production would be significantly faster," explains Glück.
In his view, the HRC standard landscape too will continue to develop further. For instance ISO/TS 15066 is to be revised as a technical specification after four years at the latest. "For this reason it is important that robot manufacturers, providers of gripping tools and end effectors and integrators actively cooperate with inspection bodies like the DGUV on the further refinement of standards," says Glück. "Safety aspects need to have priority here and without any compromises. At the same time their acceptance will be improved when the topics of safety and simplification can be harmonized during installation and certification."
Standards and Guidelines for Human/Robot Collaboration
The legal requirements for collaborative scenarios are initially described in the EC Machinery Directive 2006/42/EC annex 1: The manufacturer of a machine or their authorized representative must ensure that a risk assessment is undertaken in order to determine the applicable health and safety requirements for the machine. For the risk assessment, the immediate environment of the applications needs to be included in the analysis. All possible harmful collisions, including entrapment of limbs, work gloves or the worker tripping must be effectively safeguarded against. Normative references for the functional safety of HRC applications in turn are general standards like IEC 61508, IEC 62061 and ISO 13849-1 and 2. In addition to these ISO 10218-1 and -2 need to be taken into account for the safety of industrial robots. In the Technical Specification ISO/TS 15066:2017-04 key usage requirements for robots in collaborative operation and robotics devices are defined in particular. This "HRC standard" describes usage notes for four types of collaboration and explains the required safety principles in detail. It also contains detailed specifications about pain thresholds to be observed for the relevant areas of the body.