ProSense Differential Pressure Transmitters from AutomationDirect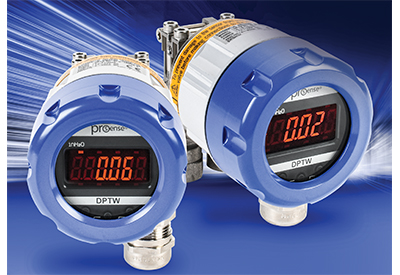 July 6, 2021
AutomationDirect's ProSense DPTW series differential pressure transmitters are precision engineered for accurate differential or gauge pressure measurement of a wide variety of liquids, gases, and steam applied to both pressure sensing ports.
The ProSense DPTW series is up to eight times smaller than a conventional style DP transmitter and is ideal for industrial, commercial, and OEM process measurement applications, including differential, positive, or negative pressures.
The DPTW series can also be used to measure hydrostatic liquid level in pressurized or open tanks and flow measurement using primary differential pressure flow elements such as an annular pitot tube, orifice plate, or venturi tube.
Seven models are available with various measuring ranges of up to 400 inches of water column, each offering 4-20 mA outputs, 12-32 VDC operating voltage, and ¼-inch female NPT process connection.
Backed with a three-year warranty, the ProSense DPTW series differential pressure transmitters have a rugged NEMA 4X rating and are priced at $795.00.
Learn more by visiting: https://www.automationdirect.com/differential-pressure-transmitters