Over 130 Different WPI and TEFC Vertical Motor Ratings in Stock and Ready to Ship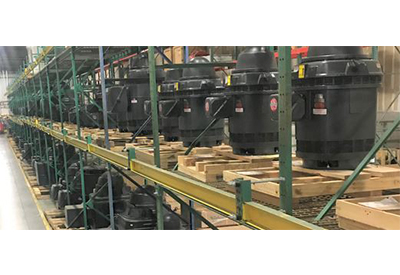 July 16, 2021
The U.S. MOTORS brand vertical hollow shaft and solid shaft pump motors have been setting the standard for the vertical turbine pump industry since their invention in 1922. Known for their longevity, reliability and ease of use, their vertical HOLLOSHAFT and solid shaft pump motors can be configured to satisfy specific vertical motor application requirements.
These durable vertical motors from Nidec Motor Corporation will keep your farming, turf, municipal or industrial pumps up and running for the long haul, in even the harshest conditions. Whether you need extra protection against dust or corrosion, or special protection from variable frequency drives, you will find a U.S. MOTORS brand vertical motor in the size and with the innovative, performance-focused design you seek. Some of the vertical motors they carry include:
– HOLLOSHAFT high thrust vertical AC motors
– Vertical normal thrust motors
– Vertical solid shaft high thrust motors
– TITAN II vertical motors
– 841 PLUS TEFC vertical motors
– TITAN 547 TEFC/WPII vertical motors
– TITAN 841 TEFC vertical motors
Both hollow shaft motors and solid shaft pump vertical motors can be tailored to a customer's specific requirements, including customizing the bearing configurations, enclosures, energy efficiency ratings – and more. Because of U.S. MOTORS' expansive inventory, you can often find a customized stock motor to suit your specifications within your preferred turnaround time. That's a hallmark of the U.S. MOTORS brand, the most trusted vertical motors in the industry. And if a stock motor doesn't fit your unique requirements, their engineering teams are experienced in creating custom-fit systems to address a variety of issues.
– Horsepower: 1 – 5000
– Speeds: 3600-400 rpm
– Design voltages: 208-7200 Vac/3Phase/50 or 60Hz
– Enclosures: weather protected type I, weather protected type II, totally enclosed fan cooled and hazardous location
– Efficiency levels: for NEMA frames: premium efficient
– Solid and hollow shaft designs for use in agriculture, turf, municipal and industrial applications
– Normal, medium, high and extra high thrust capacity motors are available
These motors are carefully designed and built to the high NIDEC and U.S. MOTORS standards utilizing innovate materials and manufacturing processes to ensure reliability and long life. U.S. MOTORS brand vertical motors can be engineered to order to meet a customer's specifications. They offer motors that meet NEMA, IEEE and API standards. Whatever frame or efficiency level you select, Nidec and U.S. MOTORS brand products help contribute to a great return on investment by offering energy efficiency and reliability.