Noark Electric and EPLAN Partner with 4,500 New Components
November 17, 2023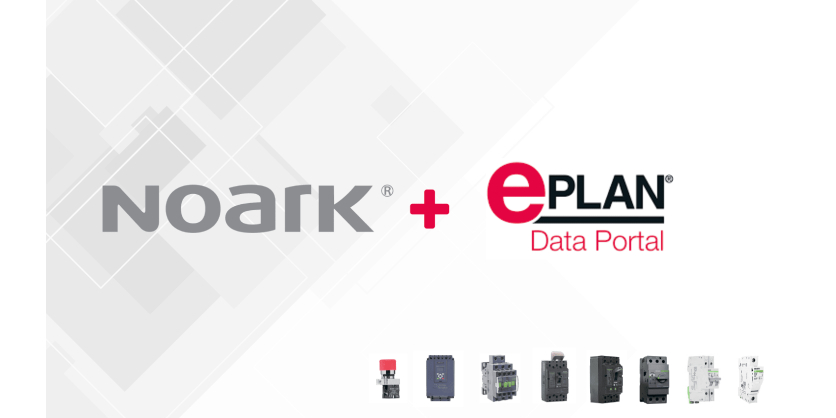 Noark Electric is proud to announce that they have partnered with EPLAN to provide over 4,500 new components to their Data Portal, a step that will improve the level of high-quality electrical components available to North American businesses.
What Does Noark Electric Provide?
Noark Electric is one of North America's leading manufacturers of low-voltage electrical components for industrial applications. They champion motor controls and circuit protection products for original equipment manufacturers at an exceptional value. All of their components are rigorously tested and certified to the highest industry standards and backed by world-class service with an exclusive five-year limited warranty.
What Is EPLAN?
EPLAN provides customers with a wide range of design software and service solutions in the fields of electrical, automation, and mechatronic engineering. For manufacturers of machines, plants, and panels, they have developed one of the world's most advanced design software solutions.
Achieving "Efficient Engineering" is at the heart of what EPLAN offers, they are a top partner for streamlining challenging engineering processes. EPLAN strives to make their customers' expertise more efficient, regardless of whether they are small or large enterprises.
How Can EPLAN's Data Portal Help Me Design My Power Systems?
EPLAN's Data Portal provides users with a simplified design process from beginning to end that offers time savings, top-level data quality, and a new simple-to-use interface with a built-in smart search function.
Users can use a variety of different filters to sift through EPLAN's library of resources so they can find the components and data they need to complete their projects.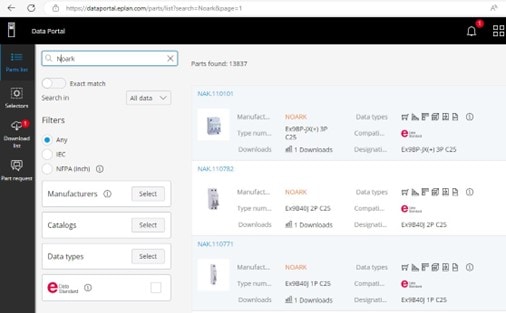 There is no doubt that when it comes to designing your control panels, consistency, quality, and depth of the data play a crucial role. As part of EPLAN's Data Portal, users have direct online access to a growing pool of high-quality product data gathered from a variety of prestigious component suppliers such as Noark Electric.
Once you've found the component you are looking for, the EPLAN system provides a comprehensive detail view that allows users to view critical information all in one place, such as manufacturer, designation, data types, and more.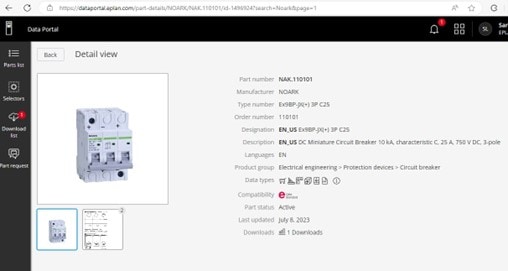 Users also have the ability to look at 3D renderings of units within the EPLAN Data Portal. This provides users with the ability to view components from manufacturers, like Noark Electric, to ensure that the components are an ideal fit for their power system designs.
You can count on Noark Electric North America to provide you with the EPLAN Data Standard to help you design your control panels quickly and efficiently. It has recently been announced that approximately 4,500 parts have been added to the EPLAN Data Portal. Please visit the company's website if you would like to find out more about Noark.
Exploring Noark Electric's Product Offerings on EPLAN: A Gateway to Modern Electrical Solutions
EPLAN and Noark Electric are making waves in the electrical industry by streamlining the process for the acquiring the latest electrical components and modernizing your electrical systems. Let's explore the exciting product offerings that Noark Electric is now providing through EPLAN and how they can elevate your electrical systems.
"The EPLAN Data Portal  gives you direct online access to high-quality product data from a continually growing pool of prestigious component manufacturers.  Noark has provided you the data you need to quickly design your control panels and increase the quality of your machine and plant system documentation." John Walker, EPLAN Data Sales Business Manager

John Walker, EPLAN Data Sales Business Manager
Noark's Power Circuit Breakers
Noark Electric offers a diverse range of circuit breakers that form the backbone of any electrical system. Circuit breakers protect your equipment from electrical overloads and short circuits, ensuring safety and reliability. From miniature circuit breakers (MCBs) to molded case circuit breakers (MCCBs), they have you covered. As a result of Noark's advanced features, their products are crucial for protecting the electrical controls of your machine and the power system of your building from unexpected overloads, short circuits, and other potential hazards that could result in equipment damage or personnel injury.
Noark's circuit protection products, now found on the EPLAN Data Portal, detect and interrupt current flow to prevent damage to electrical systems when electrical faults occur in a circuit. They help their clients protect their electrical grids from power disruptions and downtime by designing their circuit protection devices to meet or exceed industry standards.
Noark's Industrial Motor Controls
Controlling motors is vital across various industries, and Noark Electric understands this like no other. Noark's motor control products provide an ideal blend of performance and affordability. Whether you're looking for motor starters, motor protection circuit breakers, or variable frequency drives (VFDs), EPLAN's Data Portal now hosts a comprehensive range of Noark's component data that caters to your diverse needs. Components offer features like precise speed control, energy efficiency, and built-in protection, these products ensure optimal performance, longevity, and value.
Switching to Safety
Noark Electric's product offerings extend beyond circuit protection and motor control. They also offer a wide range of switches and enclosures that prioritize safety and reliability. Whether it's disconnect switches for industrial applications, terminal blocks for efficient wiring, or enclosures that safeguard your valuable electrical equipment, Noark Electric ensures that every product complies with international safety standards & ratings while delivering exceptional performance.
Build Your Next EPLAN Data Portal Design with Noark Components
Now that Noark Electric's product offerings are now listed on the EPLAN Data Portal, your company can design your next design with Noark components, knowing your end result will host excellent products and exceptional value.
Regardless of your use-case, Noark Electric's diverse range of products can cater to your specific requirements. Their products not only enhance the safety and efficiency of your electrical systems but also pave the way for a more sustainable and connected future.

So, if you're ready to upgrade your electrical game, Noark Electric is definitely a name worth considering. Stay tuned for more exciting updates on the latest trends and innovations in the electrical industry.
Also, stay up to date with all the latest product announcements, free resources, and more by subscribing to the Noark Newsletter today.
More Information
Related Story
In the vast landscape of low-voltage electrical components for industrial applications, Noark Electric has not only established itself as a global leader but has become synonymous with unparalleled quality and service excellence. As a manufacturer specializing in motor controls and circuit protection for machinery manufacturers, control panel builders and electrical OEMs, the company consistently surpasses industry expectations. This article aims to provide insight into the core reasons why they stand out, focusing on their rigorous quality standards and customer-centric approach.