NITRA Miniature Solenoid Valves & Manifolds from AutomationDirect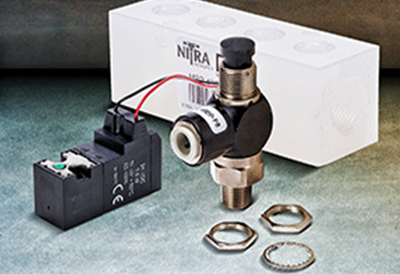 February 4, 2019
NITRA GVP series pneumatic miniature solenoid valves are an excellent choice for many automation applications with low flow requirements. These two- and three-port valves are typically used for on/off flow control or with single-acting cylinders.
Starting at $26.00, GVP series 12 or 24 VDC solenoid valves are available in 10mm and 15mm valve widths and in 2-way or 3-way normally closed configurations. Latching solenoid valves are available in 3-way normally closed configuration. Latching solenoid valves will stay open after being momentarily energized thus saving power consumption and reducing heat. Simply reverse polarity momentarily to close the valve.
Used with GVP series valves, NITRA GM-3 series compact, precision machined manifolds are available in single to 6 stations for 10mm manifolds and in single to 4 stations for 15mm manifolds. Anodized aluminum construction is used for corrosion resistance. Miniature solenoid manifolds are priced from $16.50.
Also newly available are compact and miniature manual air valves, general purpose shuttle and bleed valve fittings, brass air jet nozzle kits and non-metallic pneumatic manifolds.
For more information go HERE