NEW! Servo Solutions™ from Mitsubishi Electric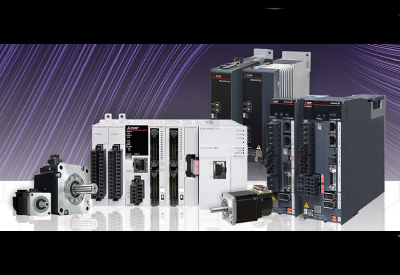 April 20, 2022
Mitsubishi Electric's Economy Solutions use their industry-leading technology to create ready-to-use solutions, allowing OEMs and system integrators to integrate high-precision motion control quickly, effortlessly, and affordably into their applications.
Using one of Mitsubishi Electric's solutions has the following benefits:
•Pre-configured bundles remove guesswork from selecting parts
•Guaranteed compatibility between components
•Sample programs to help customers get up to speed faster
•Scalable, can support 1-32 axes of motion
•Flexible, configure the solution to meet your exact requirements
Compact Motion
The Compact Motion leverages our NEW FX5 Motion Module, FX5 PLCs, and our J5/JET drives and motors to deliver premium performance at an affordable price. Available in up to 7.0 kWs, the Compact Motion offers up to 8 axes of synchronized motion per module and operates on the new CC-Link IE TSN network allowing for unparalleled communication speeds.
Key Features:
•Best suited for small to medium sized systems
•Supports 8 synchronized axes per motion module, up to 4 modules per PLC
•Ethernet based connectivity using CC-Link IE TSN
•PLC open function block library
•IoT capable, webserver, advanced motion control
•High-speed mark detection
Basic Motion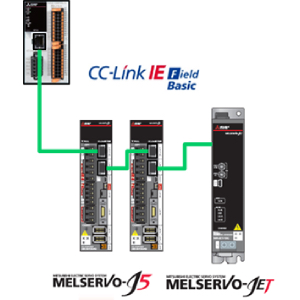 The Basic Motion uses the integrated networking of the FX5 to allow the control of MR-J5/JET amplifiers and motors at a very low cost. The Basic Motion operates over the CC-Link IE Field Basic network and allows the integration of other IE Field Basic compatible devices.
Key Features:
•Best suited for small systems
•Supports up to 16 stations, no synchronized motion
•Ethernet based connectivity using CC Link IE Field Basic
•PLC open function block library
•Low cost, medium performance
Pulse Motion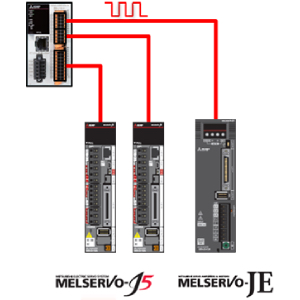 The Pulse Motion uses the J5-A and JE-A amplifiers to allow for easy integration with third party PLCs. The Pulse Motion operates over pulse train communication which makes it able to communicate with almost any PLC.
Key Features:
•Best suited for small systems
•Pulse Train network for simple servo axis
•Low performance, medium cost
•Motion module not required
To learn more about Mitsubishi Electric's Economy Solutions, click here