B&R Automation Introduces Versatile Operator Terminal right at the Machine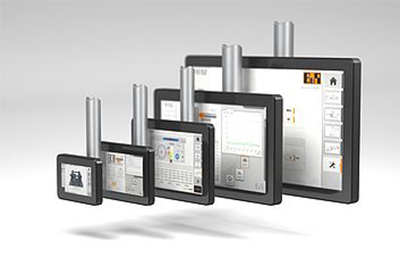 April 10, 2019
B&R presents ultra-thin Power Panels for swing arm systems
B&R now offers its Power Panel operator panels for swing arm mounting. The compact terminals feature all-round IP67 protection and are perfectly suited for use right at the machine. The devices are available in widescreen format in five sizes from 5.0″ to 21.5″. With an embedded browser, Power Panel T50 Field HMI terminals are well-suited for displaying web-based HMI applications with mapp View.
The devices are either 16.5 or 26 mm deep, depending on the display diagonal, and designed for mounting on a swing arm, where they can be easily swiveled into the operator's preferred position. The Power Panels can also be installed on VESA mounting units. The FT50 terminals have a Power over Ethernet (PoE) connection, which means only a single cable provides both power supply and network communication.
Easy operation
Power Panels are easy to configure and perfectly complement a high-end machine design. The multi-touch technology makes it possible to integrate commonly used gestures like swiping and zooming for intuitive, clearly structured user guidance. The projected capacitive touch screen responds precisely and reliably, even when operated while wearing thick leather gloves.
The right info at the right time
With a Power Panel FT50 running a web-based mapp View HMI application, operators have access to the information they need, when and where they need it. mapp View allows automation engineers to create easy-to-use HMI solutions without any background in HTML5, CSS or JavaScript programming. With just a few clicks they can set up features like two-hand confirmation for critical operations.
Go HERE for more information