New Premium Sine Seal Oil Seal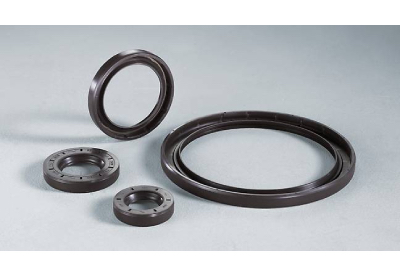 January 10, 2022
Oil seals are used to seal rotating shafts and to both protect the gear unit against dirt from outside and to protect the production environment from leaking lubricant. The oil seals must be able to withstand variable speeds, the pressure inside the gear unit, various temperature requirements and a range of other conditions.
Sealing solutions for gearmotors
Oil seals in today's production systems are subject to increasingly challenging conditions and requirements. Our gear units, and therefore the sealing systems, are used in machines that run at variable speeds or at continuous duty and therefore cause the temperatures in the drive system to fluctuate. The pressure inside the gear unit also varies according to the capacity utilization.
SEW-EURODRIVE employs a special sealing systems to protect your system against leaking lubricant, to protect our gear units against outside dirt, and to protect the motor against oil expelled from the gear unit.
In addition to conventional oil seals, SEW-EURODRIVE now offers a completely NEW, optional sealing ring that was developed specially for us: the Premium Sine Seal. This oil seal was developed for the input motor shaft in gearmotors in collaboration with Freudenberg Sealing Technologies.
The advantage of the new Premium Sine Seal is that its sinusoidal sealing lip exhibits substantially increased durability, and during servicing the new oil seal can be placed in the same location on the shaft because the Premium Sine Seal does not cause any run-in on the shaft. The special shape of the sealing lip means that the contact area on the rotating shaft is larger, which improves both heat dissipation and the transfer of lubricant at the sealing surface.
Benefits at a glance
Wear reduced: on the sealing lip by about 50%
Expected service life longer: by a factor of 2 (compared to othe
systems on the market), which means longer maintenance intervals
No run-in: or wear on the shaft – replacement oil seals can be installed at the same location
Improved reliability: against leakage with increased system availability
Configure your individual product by clicking here
Premium SIne Seal properties
Protects the motor against oil (input side)
Protects the gear unit interior (no leaks)
Generates less heat at the sealing lip
Expected service life of about 20 000 h
No grease required
Areas of application
Packaging machines
Food and beverage industry
Wood processing
Baggage handling systems in airports
Automotive production
Transport and logistics
And many more
Available for
The new Premium Sine Seal is available as an option for our CMP.. asynchronous servomotors.
It can be combined with:
Helical gear units of the R series
Parallel-shaft helical gear units of the F series
Helical-bevel gear units of the K series
Helical-worm gear units of the S series
Planetary servo gear units of the PS.F series
Helical-bevel servo gear units of the BS.F series
The Premium Sine Seal oil seal can also be ordered as an option for our MOVIGEAR® mechatronic drive system.
To learn more about SEW-EURODRIVE's Premium Sine Seal, click here