New K7TM Heater Condition Monitor from Omron Reduces Downtime and Product Waste by Detecting Early Deterioration in Heaters
October 11, 2022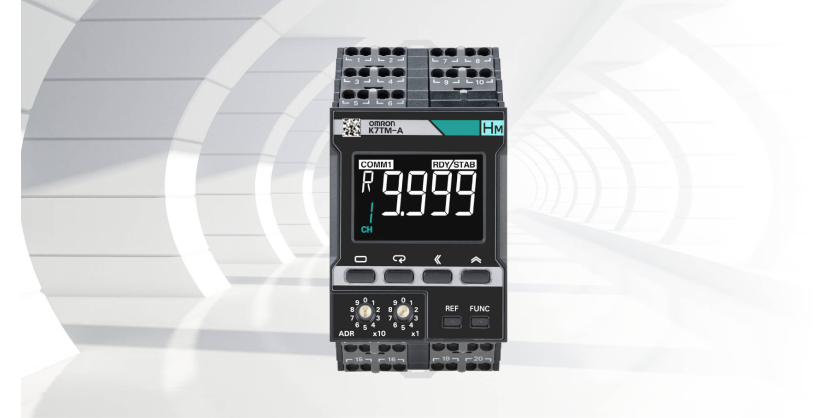 The K7TM heater condition monitor. Manufacturers seeking to avoid downtime and work-in-progress due to heater failure in industrial ovens, kilns, and metal heat treatment applications can gain peace of mind from a new Omron solution that monitors heater condition with high accuracy on a 24/7 basis.
Industry leading automation solution provider Omron Automation Americas recently launched a new heater condition monitor that supports predictive maintenance by preventing heater failure. It allows engineers and maintenance managers monitor heater condition and reduce unplanned downtime in automotive, food and commodity, semiconductor, and electronic industries.
Heaters fail through a variety of methods like contamination, thermal fatigue/heat cycling and improper power input and wattage for application. When heater deterioration goes unnoticed, it can lead to excess product waste and costly machine downtime.
What if you could be alerted to the early stages of deterioration when there is still plenty of time to get a replacement? Omron's K7TM Heater Condition Monitor makes this possible by measuring resistance values while a heater is active (as opposed to manual inspections, in which the heater must be turned off). Resistance values are calculated by measuring the voltage at both ends of the heater in addition to its current.
The latest in Omron's predictive maintenance product line, the K7TM works with any resistance-type heater, including sheathed, cartridge, band, cast, silicon carbide, and ceramic heaters. It is equipped with a local alarm bar, transistor output, and two RS-485 communication ports. Each unit monitors two heaters and can be easily retrofitted onto existing equipment.
Manual inspections often do not detect likely failures, particularly because they require the heater to be turned off for safety reasons. This makes data collection less accurate and less likely to reveal a change in condition during trend analysis.
The strategy underlying Omron's predictive maintenance solutions — an umbrella that includes the K7TM and other condition monitoring devices — is using real-time data to identify component failures early, thereby reducing unplanned downtime and avoiding costly repairs.
Industrial professionals can learn more about the K7TM, including its Push-In Plus termination, clear LCD display, and easy-to-retrofit design.
Heater resistance value trends can't be determined using the basic voltage/current calculation because the temperature controller and heater characteristics influence this calculation. The K7TM accurately measures resistance values by filtering these influences out of this calculation.
The K7TM can also monitor the deterioration trends in heater resistance by comparison with historical resistance values when used in the same environment. Depending on heater type, the resistance value may vary greatly depending on temperature. The K7TM constantly monitors the heater resistance value at the same timing as heater temperature to accurately reflect heater deterioration trends.
K7TM features and benefits
Unplanned downtime is costly for businesses. Keeping tabs on heater condition will help you avoid excessive expenses, product loss, and possible damage to your brand's reputation.
Helps avoid unplanned downtime
The K7TM predicts when the heater is nearing its failure point, letting you schedule planned maintenance more effectively to prevent unplanned downtime and save money.
Helps avoid product loss
You'll know when the heater is reaching a condition in which the quality of your product might stop meeting specifications, and you can replace the heater before quality issues arise.
Less need for maintenance resources
Lack of available maintenance resources makes machine condition monitoring difficult, while automating this task can help you overcome challenges related to the skilled labor shortage.
Less supply chain stress
Stressed supply chains are causing long lead-times on heaters that were previously readily available, so it's extra important to know ahead of time when heater failure is likely.
Learn more about the K7TM Heater Condition Monitor
Related Story
Four Ways That Omron's New K7GE Helps Minimize Downtime and Improve Productivity
Many manufacturers use time-consuming and potentially dangerous manual processes to inspect servo motors for insulation issues. If this sounds like your company, it might be time to switch over to an automated, remote-based servo motor condition monitoring solution that works around the clock.
Omron's new K7GE remote servo condition monitor is part of their predictive maintenance solution offering that's designed to help manufacturers minimize downtime without sacrificing productivity. The need for predictive maintenance is increasing due to a current shortage of skilled maintenance workers and the ongoing effects of the COVID-19 pandemic.
Related Video
Omron has an exciting product offering for predictive maintenance solutions that allow the user to monitor the health of various types of equipment. This equipment condition monitoring allows for prediction of equipment failure, such that the necessary service can be performed and unplanned downtime avoided.
These products are currently among Omron's Predictive Maintenance Product offerings:
S8VK-X EIP Connected Power Supply
K6CM 3-Phase Motor Condition Monitoring
K6PM Thermal Monitoring
K7GE Servo Insulation Monitoring