More Control Cable and IO-Link Cable Options from AutomationDirect
July 18, 2023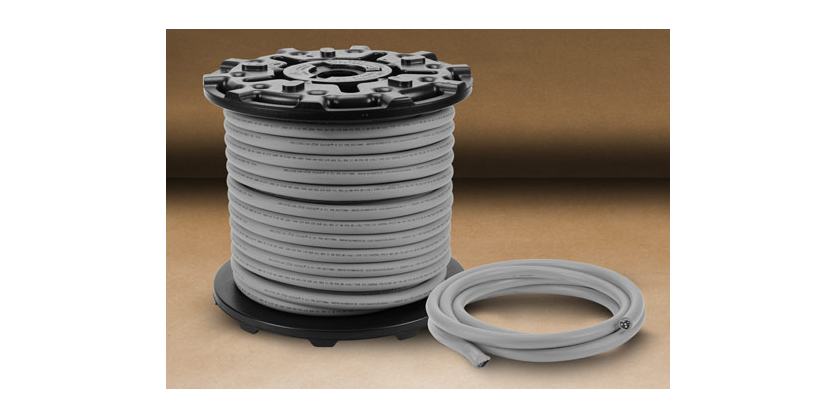 AutomationDirect has added LUTZE SUPERFLEX® control cable that is well suited for short to medium length articulated drag chain (C-tracks) installations requiring moderate to high performance. The High Glide TPE insulation and PVC outer jacket provides resistance to sunlight, oil, and moisture penetration, and makes this cable suitable for indoor wet and dry applications or outdoor installations. Cables are available with conductors in 21 AWG to 12 AWG sizes, with up to 34 conductors including ground, and is made in the USA. Order this cable cut to length in 1-foot increments with a 20 ft. minimum, starting at $0.78 /ft.
Another addition is the LUTZE tray cable exposed run (TC-ER) rated IO-Link unshielded signal and control cable, which connects IO-Link devices to a master. It can also be used for conventional non-IO-Link applications. This cable is available with conductors in 22 AWG to 16 AWG sizes, with up to 5 color-coded conductors. The oil, sunlight, crush, and impact resistant overall jacket is flame retardant, flexible for easy installations, and is direct burial rated for 18 AWG or larger sizes. Order this cable cut to length in 1-foot increments with a 20 ft. minimum, starting at $0.91 /ft.
Low voltage control cable and signal cable styles include control and audio cables; sensor/actuator cables with limited mechanical stress; and continuous flexing data cable for constantly moving applications with high mechanical load. Order cable cut to your specified lengths, or in any bulk length.
More Information
Low Voltage Control Cable and Signal Cable
Related Product
AutomationDirect has added new LUTZE DRIVEFLEX® and MOTIONFLEX® variable frequency drive cables which provide supreme protection against electromagnetic interference (EMI). These cables are available in 18 to 8 AWG sizes and include four black conductors with a green/yellow ground conductor of the same gauge. Each conductor is labeled for easy identification and is covered in a cross-linked Polyethylene (XLPE) insulation (type XHHW-2) that is oil and sun resistant, suitable for dry, damp, or wet locations, and approved for direct burial.