Mitsubishi Electric: High Performance, Cost Efficient HMI – GT25 Series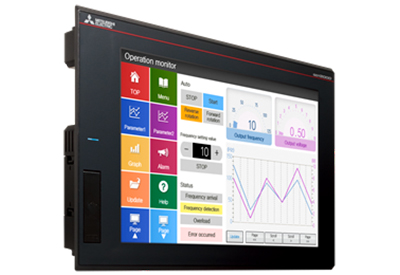 August 19, 2019
The GT25 Series is a high performance and cost-effective graphical operator terminal which includes displays from 8.4″ to 12.1″ with resolutions of SVGA and VGA depended on model selection. This high performance model has expansion capabilities for network communications, and also supports a wireless option unit. It is a great fit for advanced applications where cost is a determining factor.
Key Benefits
Flexible Configuration – With communication and wireless options, there are many capabilities available to match the needs of the application
Maintenance Platform – The convenient on-demand portal allows access to detailed system information and PDF/video work instructions, ladder and CNC monitoring, programs backup and restore function
Remote Connectivity – GOT Mobile enables remote access on GT25 terminals, allowing users to view data in real time or operate the system using a mobile device
MES Connectivity – Utilize the GT25 multi-communication abilities to create a powerful MES gateway system
2 USB Ports (Device and Host) – Transfer projects, download data logs, and connect devices such as USB mouse, keyboard, barcode reader or RFID reader
Expanded Memory – 32MB ROM for storage; 80MB RAM for operation
GOT MOBILE
GOT Mobile provides webserver functionality useful for production monitoring and operation. GOT Mobile is available on both the GT25 and GT27 Series terminals and is designed to monitor controllers using browsers on information devices such as tablets, phones and personal computers.
MES INTERFACE
The GT25/GT27 Series terminals have opened the door to enterprise systems. Communicate directly with database servers, such as SQL Server® and Microsoft® Access®, utilizing the GOT MES gateway. Collect data from field devices, such as PLCs and temperature controllers, and push it to the client.
GOT2000 SYSTEM LAUNCHER
Check the status of a PLC without having to open the electrical enclosure to connect a PC. A graphical configuration diagram on the terminal indicates module statuses. Touch a module on the diagram to see the extended function list and carry out maintenance work effectively.
GOT DRIVE
GT25 terminals have advanced drive control connectivity functions for MR-J4 and MR-JE series servo amplifiers. This functionality helps to minimize start-up time, adjustment and maintenance work on servo amplifiers by eliminating the need for a PC.