Meet Festo's Compact Cylinder ADN-S: Packed and Powerful Leaving More Space for Other Things!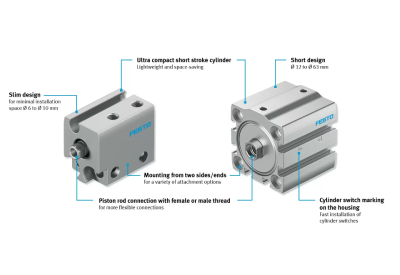 December 6, 2021
The new ADN-S ultra compact pneumatic cylinder is another space-optimized product joining Festo's core range of quick availability products. This double acting cylinder is ideal for small movements in tight quarters.
NEW: Short (Ø 12 to Ø 63 mm) ADN-S compact cylinder
Ultra-compact short stroke cylinder. Powerful, lightweight and space-saving short compact cylinder for space challenging constructions in relatively clean environments.
Lighter thanks to reduced housing lengths
Piston rod with internal or external thread
Magnetic piston for position sensing
Markings for sensor mounting
Slim & short (Ø 6 to Ø 10 mm) compact cylinder, double-acting ADN-S
Smaller systems yet greater performance. This balancing act is not a problem with the compact cylinders ADN-S. They are extremely small and light and deliver excellent performance with small movements. All thanks to the one-piece, compact housing.
Minimal fitting space
Extra light
Ideal for small movements
Piston rod with internal or external thread
Magnetic piston for position sensing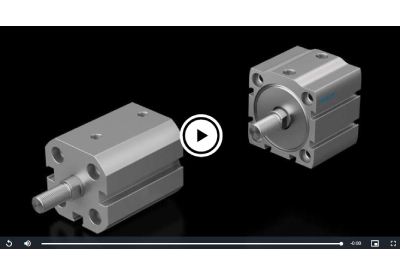 Watch a feature video here
For more information on Festo's new compact cylinder, click here