LUTZE SILFLEX® Cables from AutomationDirect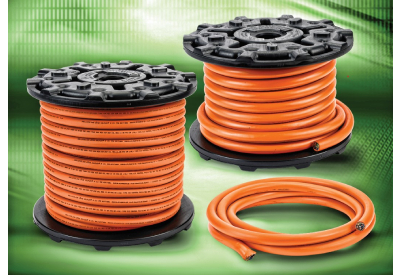 November 15, 2021
AutomationDirect has added LUTZE SILFLEX multi-conductor control cable. SILFLEX control cable is a rugged industrial cable ideal for stationary and flexible applications (not intended for continuous flexing use) with multiple ratings, including UL Type TC-ER or UL PLTC-ER, which eliminates the need for metal conduit and/or armor, resulting in installation and maintenance savings.
These cables are available in sizes from 20AWG to 10AWG with 3 to 41 unshielded or shielded conductors marked with numbers for easy identification and includes a convenient ground conductor with easily identifiable green with yellow stripe insulation.
The rugged outer jacket provides resistance to sunlight, oil, and moisture penetration, making these cables suitable for wet and dry locations as well as outdoors.
LUTZE SILFLEX control cable has multiple voltage ratings up to 1000V (depending on application), can be ordered cut to length in 1-foot increments with a 20ft minimum, starts at just $0.83 per foot, and is made in the USA.
To learn more click here