Harmonic Drive Introduces Next-Generation FHA-C Actuator with Integrated Servo Drive
May 23, 2023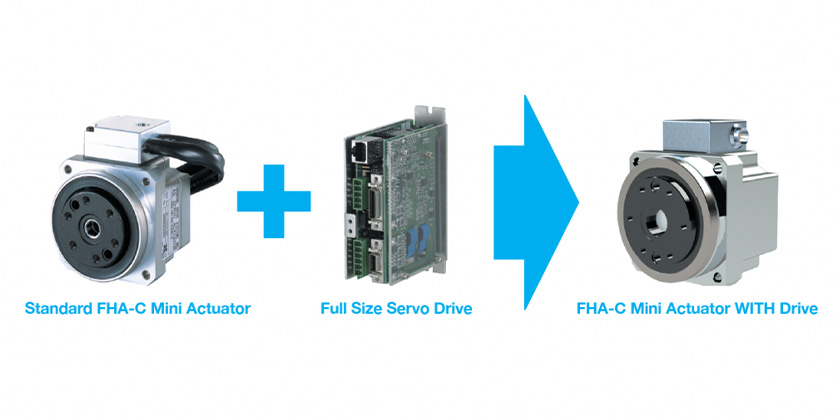 Harmonic Drive is pleased to announce the release of the FHA-C Mini Actuator with Integrated Servo Drive. The FHA-C Mini Actuator features a highly efficient, integrated servo drive that allows for precise control of position, velocity, and torque. This, coupled with its compact size, makes it ideal for use in a wide range of applications, including robotics, medical equipment, and industrial automation. 
The FHA-C Mini Actuator is also built to withstand high loads and harsh environments, making it a durable and reliable choice for demanding applications. With a rated output torque of up to 50 Nm, it can handle even the toughest tasks with ease. In addition to its impressive performance specs, the FHA-C Mini Actuator also offers several advanced capabilities, such as:
In addition, the FHA-C Mini Actuator offers an impressive array of standard features, including:
Zero backlash 
Dual absolute encoders 
Output sensing encoder 14bit (16384 cpr) resolution 
Input sensing encoder 15bit (32768 cpr) resolution 
Control modes Including torque, velocity, and position control, CSP, CSV, CST 
24VDC nominal, +7-28VDC supply voltage range 
Click here for more information
Related Product
Harmonic Drive, a leading provider of precision motion control solutions, is proud to announce the release of its HPF series of hollow shaft gear units. Designed for heavy-duty industrial applications, these advanced gear units offer high torque outputs and flexible installation options, making them ideal for use in demanding environments.