Festo's economical servo press kit YJKP gets press-fit applications up in no time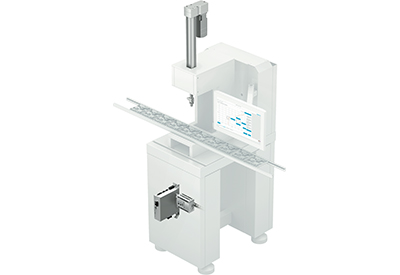 July 16, 2019
Festo's new all-in-one YJKP modular servo press kit is the essence of simplicity. This economical unit delivers a high level of precision and repetition accuracy for an excellent price/performance ratio. Each YJKP comes pre-assembled and pre-tested. All components – electric spindle drive, motor, motor controller, force sensor and control system – are ideally matched to deliver press forces up to 17 kN. (Festo also offers a special-order version of the YJKP with a force range up to 44 kN.) The spindle axis, mounting kit and servo are combined as a single application-specific module, which makes integration into an application fast and easy.
The YJKP's modular software features application-specific functions for up to 15 common tasks, like press-fitting connectors on PCBs, bending, stamping, crimping, securing, riveting, punching and straightening. The software is intuitive and easy to use; one doesn't have to be an expert to parameterize the unit. It can be used with a web visualization tool, laptop, tablet or other human machine interface and is compatible with all major platforms.
Configuration options for the YJKP include a range of stroke lengths from 100-400 mm, axial or parallel motor attachment, motor with or without a holding brake, single turn or multi-turn encoders, and the appropriate cable lengths for the job so there is no wastage. The press controller's CPC–UA interface makes it adaptable to Industry 4.0 systems. Users can exchange control and process data with a higher order controllers over an Ethernet interface as soon as the press controller is integrated into a local network.