The ix Industrial connector wins the "Innovative Product Award" in China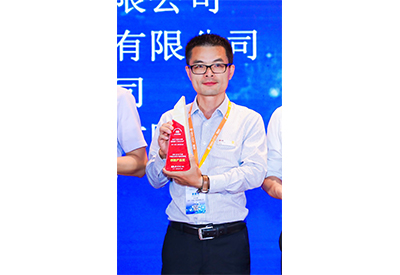 October 1, 2019
Acknowledging the ix Industrial connector, the HARTING Technology Group has been awarded this year's "Innovative Product Award" in China. The coveted award was bestowed by the "MM modern manufacturing "publication, the counterpart to the specialist magazine "MM Maschinenmarkt "– which both belong to the German Vogel Communications Group, headquartered in Würzburg.
The ix Industrial stands for ruggedness, miniaturization and outstanding performance. Drawing on these strengths, the ix Industrial is offering tomorrow's solutions today, especially in view of increasingly compact devices and sensors. Sizing up the widely disseminated RJ45 connector, the ix Industrial is the solution for new industrial devices. A connector that is compact and rugged, while ensuring Cat. 6A Performance for 1/10 Gbit/s Ethernet on the control level was long on the wish list of users, designers and developers.
HARTING is now fitting the bill with the ix Industrial, a comprehensive, consistent system meeting all the relevant requirements.
Meanwhile, the latest award is the fourth accolade bestowed on the ix Industrial connector. Fielding the ix Industrial, the Technology Group is keeping pace with the times and has created the future, miniaturized interface for Ethernet in the industrial arena.
The award ceremony took place in connection with this year's Industrial Automation Show (IAS/Shanghai). In line with the event's focus topic "Integrated Industry – Industrial Intelligence ", the HARTING portfolio showcased cloud manufacturing and edge connectivity, as well as solutions for the miniaturization mega trend – with the awarded ix connector featuring as one of genuine highlights in this area!
For more information, visit www.HARTING.com.