B&R Automation: X90 mobile control system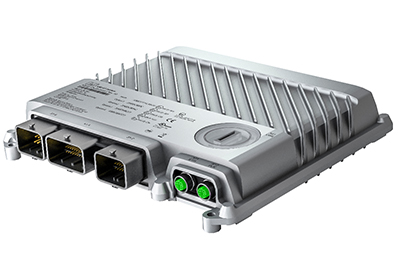 September 16, 2019
X90 mobile
B&R continues to open up new possibilities in mobile automation with its innovative X90 mobile controllers. The comprehensive set of standardized components is perfect for implementing flexible automation concepts. The heart of the X90 mobile control system is a powerful ARM processor and multifunction I/O channels. Basic features include interfaces for CAN, Ethernet and the real-time POWERLINK bus system.
Interfaces and option boards
The extremely robust cast aluminum housing provides space for up to four option boards. These can add additional I/O channels, interfaces and even a full-fledged safety controller with safe I/O. Additional option boards for WLAN, Bluetooth and GPS interfaces are in planning.
Specially designed for harsh environments
All products in the X90 mobile family are designed for use in harsh industrial environments. They can handle operating temperatures from -40 to +85°C and are resistant to vibration, shock, salt, UV light and oil.
Certified for mobile equipment and outdoor applications
Adherence to specific industry standards for agriculture, forestry, construction and municipal vehicles ensures maximum flexibility when using mobile automation products. In addition, the X90 mobile control system also carries numerous certifications.