B&R Automation: Big Performance in a Small Package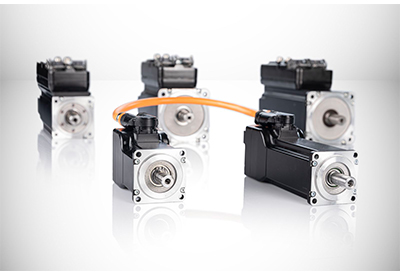 June 1, 2021
Compact motor-drive combinations minimize machine footprint
B&R has added two particularly compact variants to its integrated motor-drive solution. Equipped with powerful processors, the new devices are perfect for applications where tight synchronization and positioning precision are paramount. With the new options, the ACOPOSmotor portfolio now covers a power range from 283 W to 2.3 kW.
A powerful processor gives the ACOPOSmotor variants a fast internal cycle time of 50 µs for current, speed and position control. This makes them the right choice for highly dynamic processes where high-speed movements must be synchronized with impeccable precision. That opens up potential new applications for these devices in areas like printing and packaging.
12% boost in power density
The new ACOPOSmotor units have new motors with particularly high torque density. This enables the use of a considerably smaller flange while at the same time increasing the power density by 12%. The smallest version has a 60 mm flange at a total length of only 125 mm. It becomes possible to build more compact machines that occupy less space on the plant floor. The devices operate over a wide voltage range of 24 to 58 VDC. There is also a broad selection of gearboxes to use with them.
Reduced cabling
The ACOPOSmotors are equipped with two 300° swivel connectors for hybrid cables. There's only one cable that needs to be run to the control cabinet. The hybrid cable transmits both the power supply and POWERLINK communication.
Additional ACOPOSmotor units are easily added on via daisy-chain cabling. That saves up to 90% of cabling effort and makes testing and installation substantially easier. The integrated motor-drive units also come standard with the STO safety function. It is controlled via the hybrid cable, so no extra wiring is necessary.
Perfect for intelligent product transport
The compact ACOPOSmotor variants can be connected directly to the ACOPOStrak or ACOPOS 6D power supply. This greatly simplifies cabling for processing stations. The ACOPOSmotor doesn't need an extra power supply.