Altivar Process – The Smart, Connected Variable Speed Drive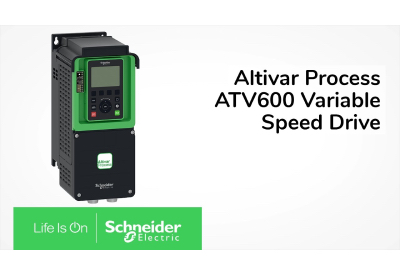 November 25, 2022
The next generation of variable speed drives, Altivar Process is designed to deliver IIoT benefits.
Reported as the only range on the market providing a common platform from 1HP – 20,000HP in all voltages, Altivar Process is easy-to-use with a consistent experience for usability, functionality, performance, and flexibility delivered through Drives Services.
These smart, and connected drives are designed to assist OEMs, system integrators and industrial process owners, to improve operational efficiency, profitability and reduce total cost of ownership (TCO).
Benefits
Altivar
Process Low Voltage & Medium Voltage Drives have built-in intelligence to gather data and share information at the enterprise level.
As the First Services-Oriented Drive, Altivar Process not only runs a motor by controlling its speed but also allows for Energy Management, Asset Management (advanced asset diagnostics via EcoStruxure Asset Advisor) and Process Optimization.
Watch this video to see an overveiw of the Altivar Process Customized Drive Solution
{youtube}HscuMNOiBxA{/youtube}
With Altivar Process you get:
•Up to 20% improved productivity

•Up to 30% energy savings (compared with direct line motor starters)

•Up to 20% enhanced asset management with downtime reduction

•Additional 8% savings as compared with a standard drive
To see the complete Altivar Process Drives Portfolio, click here