Danfoss Power Solutions to Showcase Products "Powering the Future of Machine Performance" at IFPE 2023
February 10, 2023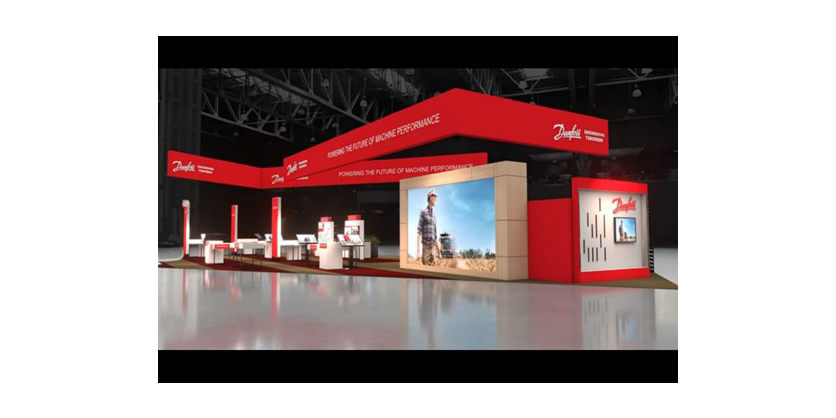 Danfoss Power Solutions will showcase its range of hydraulic, fluid conveyance, and electrification products and services at the 2023 International Fluid Power Exposition, March 14-18, in Las Vegas, Nevada. At its booth, S80515, Danfoss will demonstrate how the company is "Powering the future of machine performance."
"Autonomy, electrification, connectivity, and digitalization aren't just buzzwords. They're enabling original equipment manufacturers to develop machines with better productivity, safety, efficiency, precision, and operator experience," said Mike Hill, senior vice president, OEM sales, Danfoss Power Solutions. "At Danfoss, we're helping OEMs harness these trends and working with them to design, iterate, and validate their machines faster. It's how we're powering the future of machine performance."

Mike Hill, Senior Vice President, OEM sales, Danfoss Power Solutions
With dedicated booth areas for autonomy, connectivity, and digital tools, plus the company's Editron electric powertrain systems, Danfoss will highlight how it's paving the way to autonomous machines and zero-emission construction sites as well as delivering next-generation performance through smart, connected solutions.
Stations showcasing system solutions for excavators, telehandlers, skid steer loaders, and wheel loaders will demonstrate Danfoss' application expertise and how it helps OEMs increase speed to market. A variety of the company's key products will be on display in these areas, including two of its newest releases: Thorx™ cam lobe motors and the Dextreme™ system for excavators.
Danfoss Thorx cam lobe motors reduce shock at speed changeover by 70%, improving machine handling and operator comfort. With an integral parking brake, the motor is 33% shorter in length than other cam lobe motors, reducing space requirements. In addition, the motor's optimized brake technology lasts 20 to 25 times longer than competitive products, extending the motor's service life.
Based on Digital Displacement® technology, the Dextreme system provides a pathway to 50% energy savings by tackling losses in the whole excavator hydraulic system. With the most efficient and controllable hydraulic pump at its heart, the Dextreme system provides unique digital flow control, resulting in vastly improved system efficiency and faster operator response times. Through the fast response and digital control of the hydraulic pump, engine loading can be controlled, providing significantly reduced fuel consumption without compromising on productivity.
Visitors can also see Danfoss' fluid conveyance and industrial hydraulics portfolios. The company's comprehensive offering of hose, tubing, fittings, and connectors will be highlighted. In the industrial zone, the Vickers by Danfoss line of pumps, motors, valves, cylinders, and brakes will be on display.
More Information
To learn how Danfoss Power Solutions can improve machine performance and decrease time to market, visit the company at IFPE in the South Hall, booth S80515, or visit "Powering the Future of Machine Performance"
Related Story
The Alliance to Save Energy presented Danfoss with the prestigious Innovative Star of Energy Efficiency Award for the company's efforts to create solutions that decarbonize through energy efficiency. Alliance President, Paula Glover, presented the award to Rick Sporrer, president of Danfoss North America, at the 30th annual Stars of Energy Efficiency Awards Gala at the International Spy Museum in Washington, D.C. on Oct. 4, 2022.
The event brought together energy efficiency leaders from industry, government and academia to celebrate the best and brightest in energy efficiency with U.S. Secretary of Energy, Jennifer Granholm, providing the opening remarks.  
As part of Danfoss' ESG (Environment, Social, Governance) ambition, Danfoss has pledged to be carbon-neutral in global operations by 2030, setting ambitious science-based targets to increase energy efficiency while reducing carbon emissions. Danfoss announced in March 2022 that it had reached its 2030 target of doubling the energy productivity in its factories globally – nine years ahead of time.