Rockwell Automation Improves Operational Agility with New On-Machine Distributed I/O Solution
May 11, 2023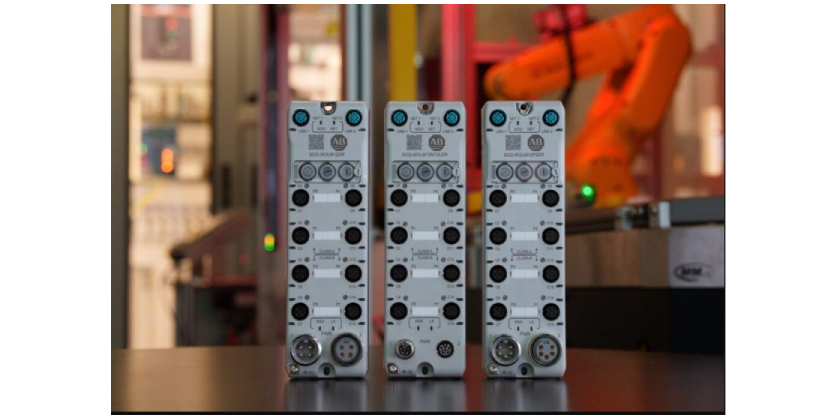 Improve operational agility. Rockwell Automation, Inc. has announced the release of its new Allen‑Bradley® ArmorBlock 5000™ I/O blocks. Integrated with IO-Link technology, the distributed I/O solution offers smart capabilities that can help industrial manufacturers improve operational productivity with minimal cost.
Manufacturers can deploy and maintain smart automation more efficiently with the ArmorBlock 5000 I/O solution. With the highly integrated IO-Link capabilities, machine design complexity is reduced through simpler device configuration and better integration with Allen‑Bradley controllers. Users can speed up project development with the common tag structure and configuration workflows in the intuitive Studio 5000 Logix Designer® environment.
Optimized for On-Machine use, the high-performance ArmorBlock 5000 I/O blocks enable quicker installation, commissioning and troubleshooting, which will reduce downtime. The I/O blocks can operate in a wide range of temperatures and offer up to IP69K protection for high-speed applications in harsh environments. Plus, the blocks are available in three industry-standard power variants to meet different regional needs.
The IO-Link master blocks are the first released product from the ArmorBlock 5000 I/O portfolio. These scalable blocks provide a high degree of flexibility with up to eight IO-Link channels that includes four IO-Link Class A and four Class B ports. The ability to control high current devices and improve connectivity can help drive machine performance and productivity.
More offerings will be released in future to complement the ArmorBlock 5000 I/O solution. The upcoming configurable I/O blocks will deliver smart capabilities such as sequence of events (SOE), scheduled output, input timestamping, event trigger, and more.
"With the increasingly complex manufacturing landscape, our customers are challenged to improve operational resilience while maintaining efficiency. Smarter technology is a key enabler for better enterprise visibility, leading to timely data-driven decisions," says Sean Homan, business director, Asia Pacific Business Center, Rockwell Automation. "ArmorBlock 5000 I/O is the result of our commitment to delivering innovative solutions that meet the evolving needs of our customers. With its distributed monitoring and control, and highly integrated IO-Link capabilities, this On-Machine I/O solution can drive production agility for industrial automation."

Sean Homan, business director, Asia Pacific Business Center, Rockwell Automation
More Information
Allen‑Bradley ArmorBlock 5000 I/O solution
Contact your local distributor
Contact your Rockwell Automation sales representative 
Related Product
Unplanned downtime costs manufacturers billions annually. New industrial automation hardware from Rockwell Automation aims to improve those results. Providing real-time predictive analytics, operational intelligence and high-performance motor control are key to boosting uptime. CENTERLINE 2100 motor control center (MCC), configured with a new PowerFlex 755TS variable frequency drive, delivers these solutions.