CRN's 2023 Women of the Channel Honors Holly Garcia and Jessica Crichton of Panduit
May 11, 2023
Panduit Corp. has announced that CRN®, a brand of The Channel Company, has named both Holly Garcia, Vice President, Data Center, and Jessica Crichton, Manager, Channel Marketing, to the Women of the Channel list for 2023. Every year, CRN recognizes women from vendor, distributor, and solution provider organizations whose expertise and vision are leaving a noticeable and commendable mark on the technology industry.
The CRN 2023 Women of the Channel honorees bring their creativity, strategic thinking, and leadership to bear in a variety of roles and responsibilities, but all are turning their unique talents toward driving success for their partners and customers. With this recognition, CRN honors these women for their unwavering dedication and commitment to furthering channel excellence.
As Vice President, Data Center, Garcia is responsible for the profitable growth of Panduit's Data Center business globally and leads its Engineering, Product Management, Business Development, and Alliances organizations. She helped guide Panduit to restructure its Data Center services strategy from a direct offering to one solely led by partners. She is also determined to show how channel partners can enable a cost effective and scalable model.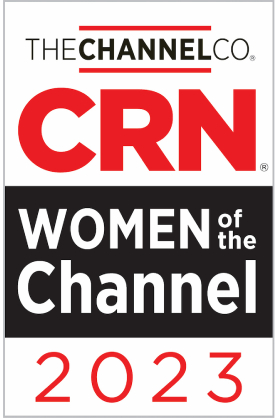 As Manager, Channel Marketing, Crichton worked to bring visibility to all levels within Panduit to the value of the channel via implementing a channel loyalty program and via creating a marketing ROI dashboard that tracks the financial ROI of channel marketing activities. This resulted in a significant increase in focus product sales. With increased communication efforts, Crichton has worked to help position Panduit even more positively within the market.
"We are ecstatic to announce this year's honorees and shine a light on these women for their significant achievements, knowing that what they've accomplished has paved the way for continued success within the IT channel," said Blaine Raddon, CEO of The Channel Company. "The channel is stronger because of them, and we look forward to seeing what they do next."
"Holly has showcased excellent determination, drive, and dedication to Panduit as we continue to lead and innovate within the Data Center market," said Tom Kelly, Senior Vice President Americas, Panduit. "We want to extend our thanks to CRN for recognizing Holly's work and achievements to be one of the Women of the Channel in 2023."

Tom Kelly, Senior Vice President Americas, Panduit
"Jessica has demonstrated a great appetite for learning and growing the channel in her role as Manager, Channel Marketing," added Kate Brogan, Sr. Manager, Marketing, Panduit. "We're thankful to CRN for recognizing what Jessica has done and confirming her as one of the Women of the Channel in 2023."

Kate Brogan, Sr. Manager, Marketing, Panduit
The 2023 Women of the Channel list will be featured in the June issue of CRN Magazine, with online coverage starting May 8 at www.CRN.com/WOTC.
Related Story
Panduit Corp. is proud to announce that The Manufacturing Institute has recognized Cheryl Vlach, SavvyStock Senior Manager, and Sofia Reising, Enterprise Risk Management Analyst, as a 2023 Women MAKE Awards Honoree and Emerging Leader, respectively. This annual national awards program honors women who have demonstrated excellence and leadership in their careers and represent all levels of the manufacturing industry, from the factory floor to the C-suite.
The Women MAKE Awards are part of MI's Women MAKE America initiative, which is the nation's marquee program to close the gender gap in manufacturing. With women accounting for less than one-third of the manufacturing workforce, Women MAKE America aims to create a 21st-century manufacturing workforce by empowering and inspiring women in the industry. Read more here.