Taking the Guesswork out of Pneumatic Air Cushioning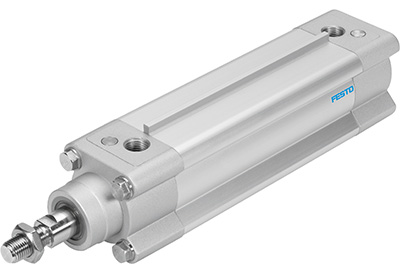 February 19, 2019
A loose screw from who-knows-where lying on the shop floor can be a vaguely disquieting sign of trouble, like that loud rattle on the machine caused by who-knows-what. Such nebulous symptoms may be the result of poorly set air cushioning of the piston stroke in ISO pneumatic cylinders.
Festo has developed technology to dispense entirely with the need for manual adjustment: the world's only perpetually self-adjusting air cushioning, available on the PPS versions of its DSBC square body, DSNU round body, ADN compact cylinder series as well as specialty variants like the stainless steel CRDSNU for food and beverage, chemical and med-lab applications. Machines equipped with PPS cylinders run smoother and quieter over their operational lifespan than cylinders that are poorly adjusted or neglected altogether.
Air cushioning is one way to dampen the impact of the cylinder stroke at the end positions of the cylinder. It reduces wear and shock, but requires periodic adjustment for changes in operating pressure, speed and load. Festo knows from decades of field experience that up to 80% of ISO cylinders with manually adjustable air cushioning – the most widely used in industry – are improperly adjusted. It's just a matter of turning a screw – the air-cushion exhaust valve – yet inattentive or inexperienced hands often lead to less than ideal performance, if they attempt it at all. It takes a bit of tribal knowledge to get it just right. Too little damping causes increased vibration and shock, which can increase product reject rates, even result in premature failure of the cylinder or other components on the machine. Too much damping lengthens cycle time – lowering productivity.
PPS adjusts automatically to operating requirements
Festo's PPS self-adjusting cushioning controls the release of air by exhausting it through multiple slotted pathways in an internal cushioning boss. The cushion air flow decreases over the cushioning stroke as the energy is dissipated. The end-position cushioning adjusts automatically to the different energy levels generated by changing loads and speeds, even to changes in friction and working pressure, ensuring optimum cushioning performance at all times. That, in turn, minimizes the effect that acceleration forces and shock have on machine components. The experience level or attentiveness of the staff is immaterial. No manual intervention is ever required, even during installation, a particular advantage with cylinders that are hard to reach. PPS cushioning is self-optimizing, always consistent and fool-proof.
The choice of cushioning technology varies with the function. In packaging machinery, for example, self-adjusting cushioning is ideal for functions like bottom stop. On the other hand, for gluing, a slower operation requiring a short but firm piston stroke, OEMs often prefer fixed, elastic end cushioning. Fixed cushioning elements reduce the impact forces and the volume of the impact of the piston on the cylinder end, but can absorb only a small amount of kinetic energy. That tends to restrict fixed end cushioning to slow-speed operations, low loads and applications with short working strokes. When the dynamic forces and loads are larger, machine designers generally prefer air cushioning.
Where air cushioning is the better choice, dispensing with manual adjustment saves about five minutes of labour per adjustment per cylinder. Festo's PPS cylinders have a far wider operating range than most standard cylinders – so fewer sizes and variants are needed to cover the same performance range. They can be used in any application except those where the cylinder is operated at its limits, i.e. heavy loads, very low or very high speeds. They are easy to clean and have no dirt traps, making them an attractive choice in food processing and food packaging systems.