Siemens' Automate the Future Tour 2023 Transforms the Every Day Across Canada
July 17, 2023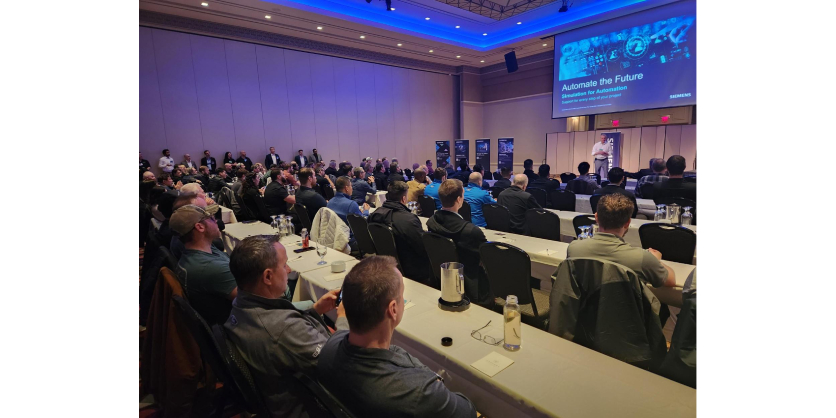 By Krystie Johnston
Siemens Canada recently completed their "Automate the Future Tour." This cross-Canada tour showcased the most recent innovations in manufacturing and process technologies. Customers were invited to explore and engage with all aspects of factory automation, motion, and process automation solutions that are transforming operations and helping companies succeed in today's highly competitive marketplace. Attendees were presented with the newest solutions in factory automation – from the hardware to the software that drives it.
Joris Myny, Senior Vice President Siemens Canada said, "Our slogan is 'Automate the Future,' but everything you see at the show is something you can touch, something you can use right now that will help you today, and in the future."Joris Myny, Senior Vice President Siemens Canada
In all industries, the demands on modern machines and plants are steadily growing. The Automate the Future Tour is a way for Siemens to showcase their products and solutions for industry – from coast to coast. For years, the tour has been structured to provide customers with information, hands-on workshops, and a mini-fair where people can speak to the experts, ask questions relevant to their application, and see firsthand Siemens' portfolio of products and solutions.
Starting in early spring, the tour made its way through Windsor, Kitchener, and Vaughan in Ontario, as well as Moncton NB, Montreal and Quebec City, QC. The final stops were in Richmond, BC and Calgary, AB at the end of May.
Registrants were able to choose from carefully curated sessions that were tailored to suit their interests and technical know-how. For example, attendees could choose from information sessions or hands on workshops focusing on automation and motion, or information sessions focused on process automation. Each session included a detailed agenda where Siemens experts discussed the most innovative offerings, products, and solutions relevant to each segment.
When asked what some of the most interesting trends today are in factory and process automation, Myny highlights the manufacturing of batteries for electric vehicles, virtual commissioning, and virtual training. For each of these high points, Siemens has a comprehensive portfolio, industry expertise and service offerings.
For example, virtual commissioning can help customers identify and eliminate malfunctions on the real machine before they even happen. Often, a machine or production line is tested for the first time once built as a prototype, which can lead to recommissioning when errors are detected once production is running. With virtual commissioning and the digital twin, errors can be found earlier, and eliminated, thus reducing costs and time-to-market.
Virtual training solutions from Siemens are becoming increasingly popular for their ability to optimize training processes and assembly quality though 3D virtual leaning. Virtual training can improve employee production, maintenance, and repair skills – all tailored to the specific needs of the individual factory or process. Siemens offers training demonstrations to enable their customers to discover the possibilities and functions of this new dimension of training.
Year after year, Siemens' Automate the Future Tour engages customers with the latest aspects of factory and process automation and motion; solutions that can transform factories and plants and help them to excel in today's competitive markets. The 2023 Tour was a great success in bringing customers the latest innovations in hardware – the newest technologies and fully-integrated solutions – that they can use right now, today, and into the future.
More Information
Siemens' Automate the Future Tour
Related Story
On October 12, 1847, Siemens started operations as a small factory workshop with ten employees manufacturing pointer telegraphs, in a courtyard tucked away behind a building on Schoeneberger Strasse in Berlin. Now, 175 years later, Siemens has more than 300,000 employees around the world and, with around €62 billion in annual revenue, is one of the world's largest technology powerhouses.