SEW-EURODRIVE: Pushing Boundaries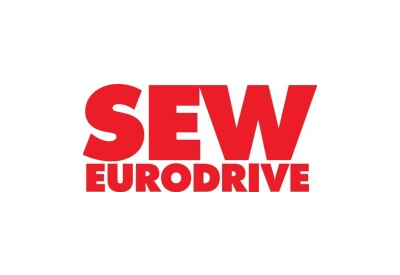 By: Owen Hurst
This April, while attending the Hannover Messe Trade fair, Drives and Control Solutions had the opportunity to spend some time at SEW-EURODRIVE's impressive booth with Jochen Sauer, Head of International Marketing for the Americas and Asia-Pacific regions.
Jochen is a true gentleman and was very open to discussing new products and taking me on a private tour of the booth to see the new products and innovations that SEW-EURODRIVE is bringing to market now and in the near future. Although, timelines here in Canada do tend to be a little behind and many of these products will be first introduced into the European, Asian and American markets, we thankfully are not too far behind and should see many of these products by end of year.
I also do not feel I need to go into great detail about SEW-EURODRIVE as their name and product quality speak for themselves, but rather I want to highlight some of the innovations I saw that truly struck me.
One of the first things that got me very intrigued was the newly enhanced SEW-EURODRIVE app for diagnosing, locating and obtaining replacement parts for motors. Having a live stand with motors and several smart phones with the app in place allowed attendees to walk up and scan the motor, which immediately triggered the app to open a full diagnostic of the motor and a complete part by part exploded view. An exceptionally handy tool for those working in the field as they can manipulate and work with layouts and focus in on individual parts from the palm of their hand.
Another interesting product was SEW-EURODRIVE's new extra low-voltage drives that address the increasing concerns among automation development regarding size and weight, particularly in mobile settings. The new series operates in the 188W to 357W power range with a voltage supply of 48V(DC). These compact extra-low voltage motors are electronically commutated interior rotor motors with high power density and dynamics. The drives have fully integrated control electronics with analog and digital interface and parameters can be set by local engineering interfaces, allowing end-users with high flexibility across numerous applications.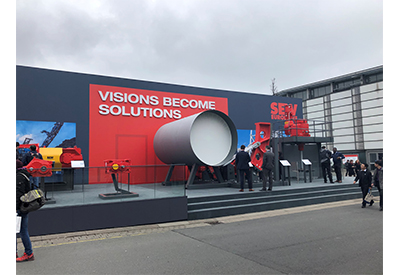 Also, intriguing was the launch of MAXOLUTION® Factory Automation Services that was developed to help customers advance toward a smart factory model. MAXOLUTION® focuses on two primary fields, Automotive manufacturing and smart factory development, with each offering a variety of enhancements for each area. To look specifically at smart factory production the MAXOLUTION® portfolio offers Seminars, project planning and implementation, virtual factory creation, ergonomic testing in the virtual world, simulations and emulations, assisting production with augmented reality, installing and starting up systems and maintenance services.
And finally, and what was for me the most impressive was the mini automotive factory that SEW-EURODRIVE had set up within their booth that included automated work vehicles, factory workers and several cars being put through a mock production line. The autonomous assistants (what we typically know as AGV's) were carrying the cars throughout the plant, while other autonomous assistants were moving about delivering tools and required components to workers at various stations. What was highly unique for me was that the assistants were not called by workers but were all tied together in a monitoring system that recognized where a worker would need their tools and when and the assistant would meet the worker at the stations with everything they needed.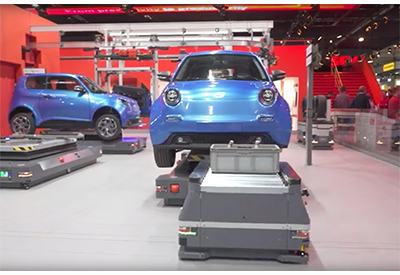 What was also striking was that the assistants were unlike most AGV's I have encountered. Most get the "G" because they are guided by a very specific guidance system that an be embedded in the floor or by predetermined routes the AGV's must follow. What was unique with SEW-EURODRIVE was that the assistants were guided solely by visual sensors with no predetermined paths set up. Most often I see visual sensors in place as a redundancy in case of guidance failure but SEW-EURODRIVE has taken it a step further and made their assistants smart enough to move around completely using their own vision.
SEW-EURODRIVE's focus on AGV's has already made its way to Canada and is the currently the focus of a partnership between Humber College and SEW-EURODRIVE. The agreement has brought SEW's industry 4.0 laboratory into North America for the first time with a living laboratory at Humber College's North Campus that is focused on AGV's, mobile worker assistants and connected automation equipment. The partnership is part of a five-year deal that began in 2018 that will expand the knowledge of faculty, students and employees and enables Canadian businesses of all sizes to explore how Industry 4.0 can enhance their manufacturing processes and increase productivity.
SEW-EURODRIVE certainly put on quite the show in Hannover with the technology they are developing and implementing around the world. It is truly exciting to see these products up close and to know that some of this technology is already being utilized by Canadian students and soon to be in our manufacturing facilities as well.
I also must thank Jochen for taking the time to walk through all these new innovations with me and providing this valuable insight for the many Canadians who were unable to attend the show and see these innovations firsthand.
Visit SEW EURODRIVE Canada HERE