New Case Study From Mohawk College Shows How New Technology From Ontario-Based Enertics INC. Can Improve the Health of Industrial Motors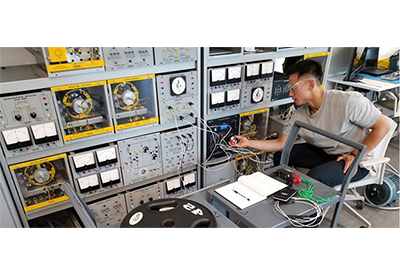 October 29, 2020
A new case study from Mohawk College's Energy & Power Innovation Centre is showcasing how an innovative technology for monitoring motor health can help identify motor-rotor unbalance, misalignment, electrical unbalance, and early stage bearing faults.
Ontario-based Enertics Inc. partnered with Mohawk College's Energy and Power Innovation Centre (EPIC) to complete third-party testing and validation of its LVMM 100 Motor Health Monitor Sensor Gateway, a new tool for monitoring electric motors.
Electric motors are used in a variety of industrial applications and can be expensive assets to maintain and replace. Unexpected downtime or breakdowns result in lost revenue and, in some cases, catastrophic damage. Although most companies undertake preventive maintenance programs, those programs do not provide appropriate alerts and alarms for any anomalies before they become major faults, meaning that motors can still fail without warning. An automated continuous monitoring system providing online diagnostics and proactive health warnings about motors would bring tremendous value to industry.
Enertics designed a product that helps companies implement continuous monitoring and predictive analytics for their electric motors. It uses Internet of Things (IoT) sensors that can relate to motor performance parameters, feeds data via a secure system to Enertics's proprietary predictive maintenance algorithms, and conveys the results to a user-friendly dashboard. The device can detect high-resolution mechanical vibration signals from the motors and identify abnormal behaviour that can be linked to potential electrical and mechanical faults.
With funding from the Ontario Centres of Excellence, Mohawk College's Energy & Power Innovation Centre completed the third-party testing and validation were completed using both a simulated test bed and an actual industrial setting. When the team tested the end-to-end functionality using the industrial-sized motors in Mohawk's HVAC air handling system, they found that the system detected and verified the ambient structural vibrations that may adversely impact performance over the life of the motor. The research team also helped test and improve Enertics's data acquisition and communication system in an industrial setting.
Continuous health monitoring and predictive analytics helps customers to better plan for proactive service of their motors, instead of waiting for failures to happen. This increases process uptime and extends the lives of motors while minimizing maintenance costs from unexpected breakdowns.
The third-party validation provided by the research team at Mohawk will help Enertics commercialize this technology in Ontario and beyond.
Read more in the case study: https://www.mohawkcollege.ca/ideaworks/epic-case-study-predictive-analytics.