Rail Guided Vehicle (RGV) Moves from Combustion Power to Contactless Electric Power. Smart Move
March 31, 2023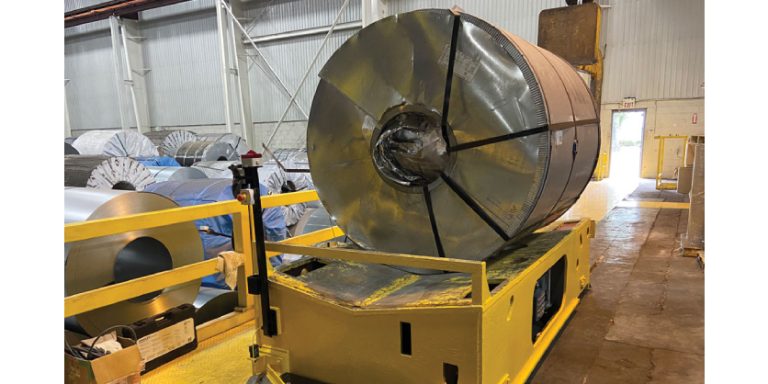 The Problem
Moving 68 Ton metal coils within a warehouse space requires raw power. Historically, this was only achievable by using large payload RGVs (Rail Guided Vehicles) with polluting combustion engines or environmentally damaging lead acid batteries.
Factory and warehouse environments already have their share of harmful emissions. As a result, many plants are looking for new ways of reducing airborne toxins and creating a safer work environment without sacrificing equipment performance or productivity.
The Strategy: The Electrification of the RGV System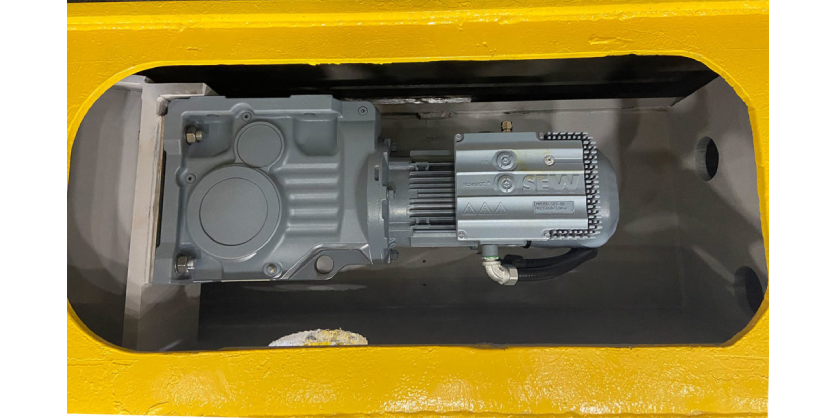 MAXOLUTION® is about maximizing the potential and the ROI of our client's systems solutions by designing and implementing turnkey, all-in-one, advanced manufacturing processes. The objectives are to evaluate the deficiencies of an automation process and provide recommendations and the support necessary to design, validate and seamlessly integrate custom-tailored smart solutions.
Key Data Points:
Identifying Payload Power Requirements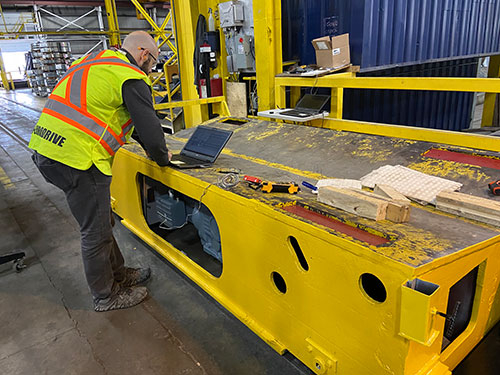 MAXOULTION's engineering team carefully reviewed the client's application using engineering first principles. Power and torque requirements were calculated using site elevation changes, bearing types, requested accelerations, linear speeds, and existing design dimensions, including wheel diameters, sprocket ratios, wheel, and rail materials.
Evaluating Functionality Deliverables
Determine the feasibility of converting a combustion powered RGV system to a fully electric MAXOLUTION® system solution
Validating the notion of using Electromagnetic charging as the RGV's primary power supply
Meeting the criteria for an environmentally sustainable solution
Capital Investment Criteria
Meeting the client's request for a lower total cost of ownership
Paid off investment projections within 12- 18 months
Implementation For a Reliable Low Maintenance Solution
Demonstrated the value of a zero maintenance solution via contactless wireless power exchange
Enrolled client with SEW-Eurodrive`s 24/7/365 localized support program
Reviewed and confirmed the requirements for wet or outdoor type applications
Added Benefits of Advanced Manufacturing
Introduction to practical, in-market, advanced manufacturing Industry 4.0 technology
Demonstrated how MAXOLUTION® system solutions can mimic existing throughput cycle via advanced manufacturing processes
Showcased the scalability of Industry 4.0 technology
Improved Safety / Environmental Initiatives
Replace combustion motor with electric emission-free motor
Implementing a long-term environmentally sustainable solution
Drawing on clean and renewable energy to power its RGV system
Eliminating airborne toxins for a safer, cleaner working environment
The Smart Move: MOVITRANS®
So, where do you find an all-in-one solution with the capability of shuttling up to and beyond 68 Tons of payload across a factory floor? And doesn't emit toxins, is virtually maintenance-free, and uses a renewable energy source?
Welcome MOVITRANS®! This friction-free, electric-powered energy supply runs off an electromagnetic charge (like your phone's charging station—just bigger!) by installing industrial-sized charging cables below the factory floor.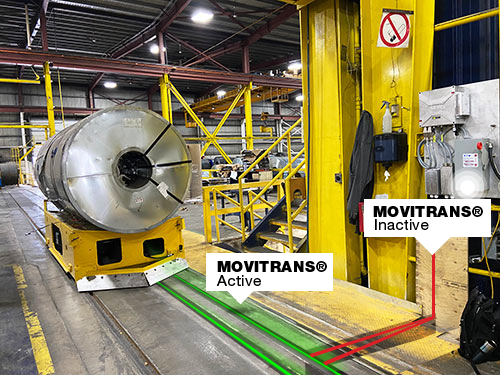 The MOVITRANS® contactless energy transfer system is scalable from 8kw to 48kW and can transmit continuous power to mobile consumers wirelessly over a 20mm air gap. And yes, it eliminates the need for any energy storage, exposed power bus bars, or cable tracks resulting in a true maintenance-free system with an attractive ROI on the initial investment. Just think of MOVITRANS® as having your own clean energy, toxin-free underground fuel pipeline.
The complete MOVITRANS® installation process will require some minor construction and preparation work; however, the combined benefits of having a safe, clean, reliable, and continuous power source are easily justified. And yes, we proved it!
Although the retrofitted RGV runs exclusively on MOVITRANS®, MAXOLUTION's modern AGV systems have the capability to deviate from its primary power source (MOVITRANS®) by harvesting energy from its onboard supercapacitors. The onboard supercapacitors are paired with a well-designed motion plan that places charging stations in strategic areas throughout the AGVs shuttling route. The combined technology and design engineering results in the continuous and uninterrupted flow of power and unrestricted payload delivery capabilities.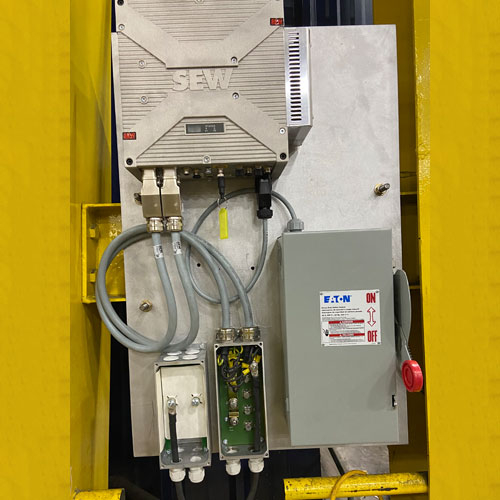 Before Smart Move
Powered by Combustion Motor
Environmentally Sustainable
Presence of airborne toxins and emissions
Antiquated Manufacturing Technology
Higher Total Cost of Ownership
Ongoing Maintenance
After Smart Move
Fully Electric Powered
Environmentally Sustainable
Elimination of Airborne Toxins and Emissions
Integrated Advanced Manufacturing Industry 4.0 Technology
Lower Total Cost of Ownership
Virtually Maintenance Free
Add In MOVIMOT®
Pair your new energy supply with our decentralized digital inverter technology MOVIMOT® that accommodates direct mounting on the motor or as close to the motor as possible. Thanks to our modular concept, the MOVIMOT® D-series can be combined as standard with our DR series AC motors with different levels of efficiency and any of our historical modular gearing. This allows for maximum efficiency, flexibility, and simple installation without needing special panel enclosures.
Results
Fully Electric Powered
Emission And Toxin Free Air Quality
Safe And Reliable
Continuous Power Supply
Maintenance Free
Wet Or Outdoor Applications
Environmentally Sustainable
Lower Total Cost Of Ownership
24/7/365 Localized Support
More Information
Related Story
Considerable investments are made with respect to industrial gear units, and given this expense, it is reasonable that the owner or operator expects excellent system availability and improved productivity. It is not always possible to predict downtime and be able to prevent unscheduled maintenance.
What if there was a way to get a clear view ahead, a way to achieve proactive maintenance and avoid costly breakdowns and even preventative maintenance? What if this solution was possible for not only new industrial gear units, but existing ones as well? DriveRadar® from SEW-EURODRIVE is that solution and more.