Festo's Electric Motion Sizing (EMS) – Helping the Automotive Industry Enjoy a Smooth Ride
When a Tier 1 Automotive Supplier in Ontario wanted to manufacture shock absorbers for a leading auto maker, they used Festo's Electric Motion Sizing software to help them get the job done right. And in record time.
June 9, 2023
By Krystie Johnston
The Importance of a good suspension
A good suspension in your vehicle ensures that your drive is safe and smooth by absorbing the energy from kinetic impacts like bumps in the road. It also helps your tires to maintain contact with the pavement by increasing tire friction. Because shock absorbers play such a vital role in a vehicle's steering, stability, and braking, it is important that these parts are manufactured with quality and consistency.
The manufacturing process for shock absorbers, from raw steel to the final product, requires many steps and complex moving parts. The final product depends on what kind of vehicle it is designed for. The shocks of a sports car are completely different from those of a luxury sedan, or a heavy-duty truck. When a Tier 1 Automotive Supplier wanted to manufacture shock absorbers for a leading auto maker, they turned to Festo to help them get the job done right. And in record time.
A look at Ontario's automotive industry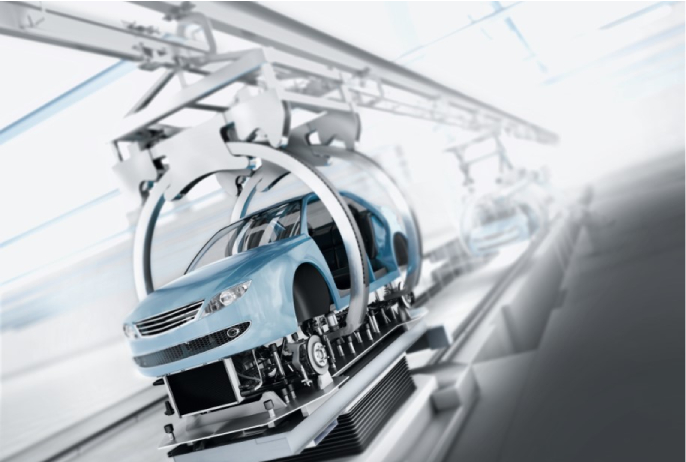 The automotive industry is experiencing a revolution in technology and mobility solutions. In Canada, Ontario is positioning itself as a North American leader in developing and building the car of the future through emerging technologies and advanced manufacturing processes. Ontario is the only province that builds cars and trucks in Canada, and it is the only region in North America with five major global automotive assemblers – Stellantis (formerly Fiat Chrysler), Ford, General Motors, Honda, and Toyota. Moreover, Ontario's vehicle assembly facilities are supported by a supply chain comprised of over 700 parts companies and over 500 tool, die, and mold makers.1.
To compete in the automotive industry, Tier 1 suppliers need technical and efficient solutions as quickly as possible, and with the least amount of effort. Festo knows this industry and has a cross-technology solution portfolio to support it. This article looks at their Electric Motion Sizing (EMS) tool, which helps customers find a perfectly dimensioned combination of electric or eletromechanic drive components based on their application needs. After entering only a small set of parameters, the tool will recommend the best product combinations out of several million combinations within seconds. Watch this video to see what it can do.
Automation solutions for the automotive industry
Automation in the automotive industry involves complex value chains, just-in-time production, and networked manufacturing consisting of intelligent components, handling technologies, and flexible, integrated solutions that are built on pneumatics, electrics, or a mix of both. In this application, the Tier 1 Supplier used electric actuators, electric linear drives, Festo servo motors, and Festo controllers.
Using Festo's Electric Motion Sizing Software, a free software available on Festo's website, the customer was able to complete their motion sizing quickly and easily. In just a couple of minutes using the software, they were able to do what can take hundreds of hours to do manually, depending on the application. Dilpreet Pandher, Industry Segment Specialist Automotive at Festo, worked with them on the project. When asked if the customer ran into any challenges while using the software, the answer was that it was a smooth ride.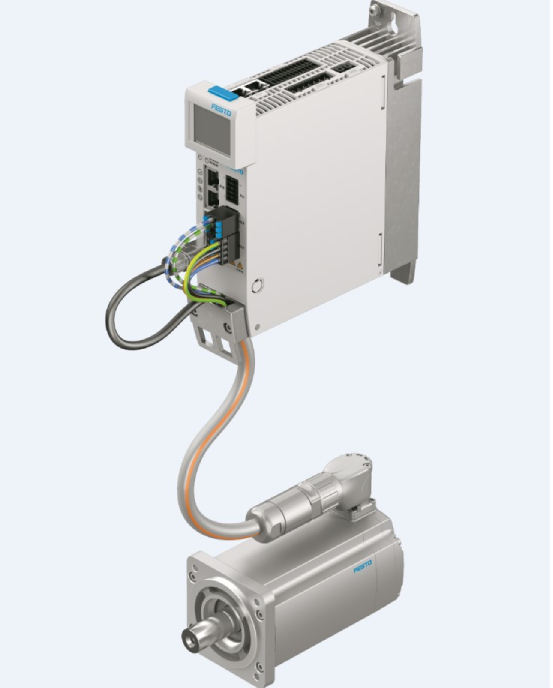 "It was seamless. Festo has powerful sizing software that speeds up the process. Design engineers like its user-friendly interface, and control engineers felt confident programming the new drives. Customers know they have all the necessary tools available on Festo's website, and they can rely on Festo's strong technical support network. I have only heard good things from them."

Dilpreet Pandher, Industry Segment Specialist Automotive at Festo
To ensure that this application was as seamless as possible, Pandher visited the customer's site to make sure that the sizing was done correctly. With over five years of experience as an Automotive Industry Specialist in the Greater Toronto Area, he was well suited to assist with this project.
"Since I finished this project, I have had more interactions with this client. Festo has awesome software, plus, we have on-site support – and not just myself – we have a complete team of engineers in application engineering and custom-solutions departments, who can help virtually or visit a customer's side for support. Festo has a complete support network that customers can rely on. They can also help with commissioning and delivery support as well. This pushed us to be the primary supplier for this client when it comes to electric automation."

Dilpreet Pandher, Industry Segment Specialist Automotive at Festo
A local presence with a global support network
The Electric Motion Sizing software is a powerful tool for easy servo sizing, ordering, and configuration. It has been available since March 2021, and continues to improve in tandem with things like new products and the evolving complexities of customer's applications. Tom Worsnopp, Product Market Manager at Festo, is an expert on their electric automation products, and their integration with other leading manufacturers' products. When asked to describe Festo's EMS software, he defined it within the context of Festo's portfolio of offerings.
"This is one very powerful tool in a set of tools. Electric Motion Sizing is a great way to size a single axis – whether that is a linear axis like we are talking about here, or a rotary axis. And then, we have a separate tool called the Handling Guide Online (HGO), which allows you to size two to three axes solutions."

Tom Worsnopp is Product Market Manager at Festo
Worsnopp says that the EMS tool can serve any industry that needs a solution for movement – not just the automotive industry. The EMS tool can help with motion sizing in many industries, including applications in the electronics, food and beverage, and lab automation industries, and more. To find out more about Festo's motion sizing for two to three axes, refer to Creating a Cartesian Handling System with Festo's Handling Guide Online.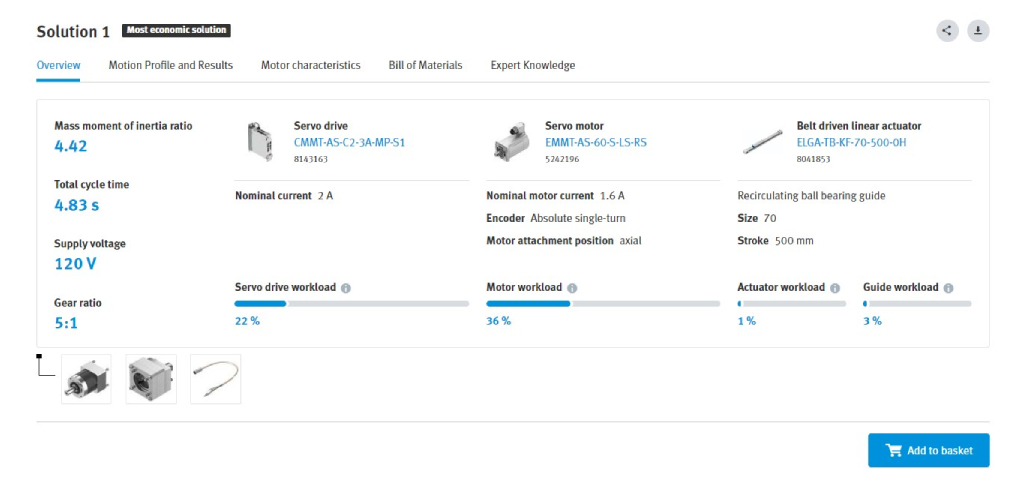 Flexible handling technology
Festo is continuously innovating to better serve their customers and focus industries. In this application, the Tier 1 Supplier required high flexibility and precise positioning, so they selected Festo's new multi-protocol servo drives, which are specialized for point-to-point and interpolating motion. The customer was able to use the EMS software to seamlessly program the new drives and the new multiprotocol chip allowed them to select whichever bus protocol they needed. This provided them with flexible handling technology that was easily integrated into their existing facility.
Worsnopp explains how this new multiprotocol not only solved a supply chain issue, but it also elevated the functionality of the drives to new levels. Festo was planning to switch from their classic servo drives but accelerated the process because of delivery issues with electronics, ensuring reliable deliveries for their customers.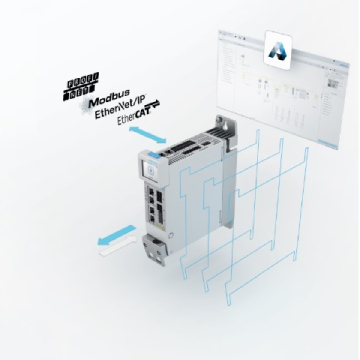 "Last July we switched to a new multi-protocol chip. And now, that means if we have the servo drive on the shelf, the customer can just configure it for whichever fieldbus they need and they are able to use it with their PLC. This is great because we accelerated our redesign of our servo drives and it was a lot easier to access the supply chain that was available. "

Tom Worsnopp is Product Market Manager at Festo
Every company and every industry has suffered from delays due to break down in supply chains and longer delivery times. Many PLC (programmable logic controller) manufacturers have delivery lead times that are anywhere from six months to a year. Festo's ability to accelerate the release of the new servo motors and controllers to the customer was a clear advantage. This was the first time this Tier 1 Supplier worked with this automaker, and it was important to make a solid first impression.
"We picked the part numbers that were either in stock or had very good lead-times. We were able to finish this project within six weeks – which is phenomenal given the scenario of the current market regarding supply chain disruptions."

Dilpreet Pandher, Industry Segment Specialist Automotive at Festo
This achievement let the customer move ahead with this project. Shock absorbers manufactured with the help of Festo's Electric Motion Sizing tool. Done right. And on time.
Editorial Notes
More Information
Festo Introduces the Electric Motion Sizing Online Tool for Quick Selection of Servo Drives