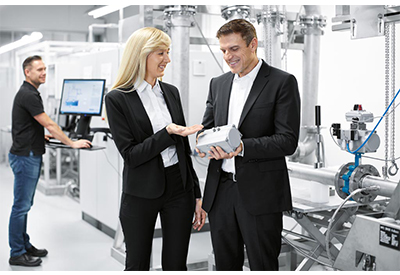 Festo is a global player and an independent family-owned company with its headquarters in Esslingen am Neckar, Germany. The company has become the global market leader in its sector over the past 60 years thanks to its innovations and problem-solving competency, as well as a unique range of industrial training and vocational education programmes. Festo supplies pneumatic and electric automation technology to 300,000 customers in the field of factory and process automation in over 35 industries.
Products and services are available in 176 countries around the world. In 2018, the company employed 21,200 employees in 61 countries in over 250 subsidiaries. Its turnover in 2018 was EUR 3.2 billion. Each year, the company invests about 8% of this turnover in research and development. 1.5% of this learning company's turnover is invested in basic and further training. Training services are not only provided for Festo's own staff – Festo Didactic SE also supplies basic and further training programmes in the field of automation technology for customers, students and trainees.
Festo in process automation
Festo is a partner for process automation and offers the process industry a wide range of services. It provides standardised components for the bulk materials industry, water technology, the chemical industry, the food and beverage industry, the pharmaceutical industry and many other segments, and also develops customised automation solutions with and for its customers. The automation specialist supports its customers in all project phases, from engineering right through to operation and maintenance. Customers in the process industry also benefit from additional synergies and advantages that come from decades of experience in factory automation.
Product range for process automation
The process automation products cover all the individual levels of the automation pyramid, from the operating level to the field level, and Festo solutions are used in all process industry applications. Customers worldwide receive all their components from a single source: control technology and remote I/Os, valve terminals, pilot valves, sensors and positioners, actuators, process and media valves, compressed air preparation and pneumatic connection technology. The range of solutions offered by Festo covers everything from individual components right up to ready-to-install systems and complete automation concepts. And Festo supports its customers around the globe all along the entire value added chain. In addition, products and solutions for SIL and explosion protection make the applications of the process industries safe. Festo offers a wide range of products for this purpose – from components at control level to process valves at field level.
For more information, visit HERE.