Festo's newest motion app: motion profiling and position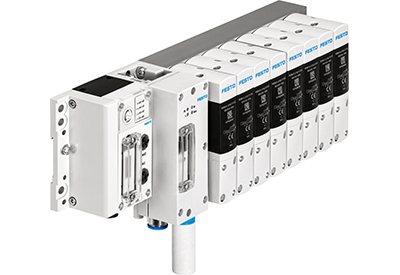 October 3, 2019
As it continues to evolve, adding new capabilities and connectivity, the revolutionary Festo Motion Terminal (VTEM) is challenging machine and process engineers to look beyond the limits of conventional pneumatics to a world of new possibilities opened up by this software-driven valve terminal.
With VTEM's digitally-controlled pneumatics, the days when a valve has only one function are gone; the same ones can be used both as proportional or control valves. The system is then just like a reprogrammable piece of hardware, and can even be reconfigured remotely.
In many applications, VTEM does what a conventional valve terminal cannot, or does the same same task with greater subtlety, precision, consistency or versatility. It simplifies entire processes. VTEM's 10 (and soon 11) Motion Apps define the functions of its piezo-based valve technology, and in so doing replace over 50 individual components and even system solutions, from flow control valves to a wide range of directional control valves, proportional regulators, soft stop solutions and positioning tasks.
While standard pneumatics will continue to serve most businesses in factory and process automation perfectly well, VTEM offers unique benefits in an increasing number of scenarios.
For example, it's ideal for performing quick reconfigurations of production equipment for format changes of product or packaging, which can help business respond much faster to customer needs, especially in the emerging Industry 4.0/Smart Factory environment where those market-sensitive benefits are touted. With conventional pneumatics, such changeovers are extremely time-consuming and labour-intensive, taking hours or even days while production remains idle. VTEM does it in minutes, by simple software adjustments to change process parametres. For example, with the Directional Control Valve app, the valve function can be assigned easily and conveniently via a PC or machine's control system. The operator can change the directional control valve functions, e.g. 2/3, 4/3, 3/2, etc., at any time and as often as he or she wants.
VTEM also creates entirely new possibilities. Take the entertainment industry. Until now, cinemagoers have only been able to experience films in 3D cinemas on a visual level. With special cinema seats like those made by MediaMation of Torrance, California, they become an experience for all the senses. Pneumatic drives underneath the seats controlled by VTEM lift or tilt them in sequence with the images in the film, placing the audience in the middle of the action. During a sports car chase, they experience the physical sensation of tight bends, fast acceleration and sudden braking. Standard VUVG valves provide additional effects such as gusts of wind, splashes of water or smells to enhance the experience.
VTEM can perform a wide range of functions with just one valve, regulating the air flow and pressure in such a way that both quick, powerful as well as soft, precise motion sequences are possible. Previously, such varied controls would have required a large number of additional automation components. The pending release of an 11th Motion App – Motion Profile and Positioning – This feature will make it possible to offer servo type positioning with medium accuracy at a lower cost than electric drives for cylinder stokes between 90 and 300mm with cylinder diametres 20, 25, 32, 40 and 55 mm.
Also, VTEM now can be ordered with just two valves instead of 4 and 8 valve configurations, and can interface with with the most common Fieldbus networks and not just Ethernet IP and PROFInet and EtherCAT. PLC function blocks have been developed for Allen Bradley and Siemens Tia software simplifying the programing required to control VTEM from system controllers.
With VTEM apps, pneumatic systems can be perpetually self-adjusting and self-optimizing for longer wear life of production equipment and less rejected output. Depending on the apps installed, other high level benefits of a VTEM system can include reduced maintenance expense as well as lower energy costs. Simplified commission means new products can get to market faster.
For more information, visit www.festo.com.